Corruption, Data and the SDGs: a Transparency International online course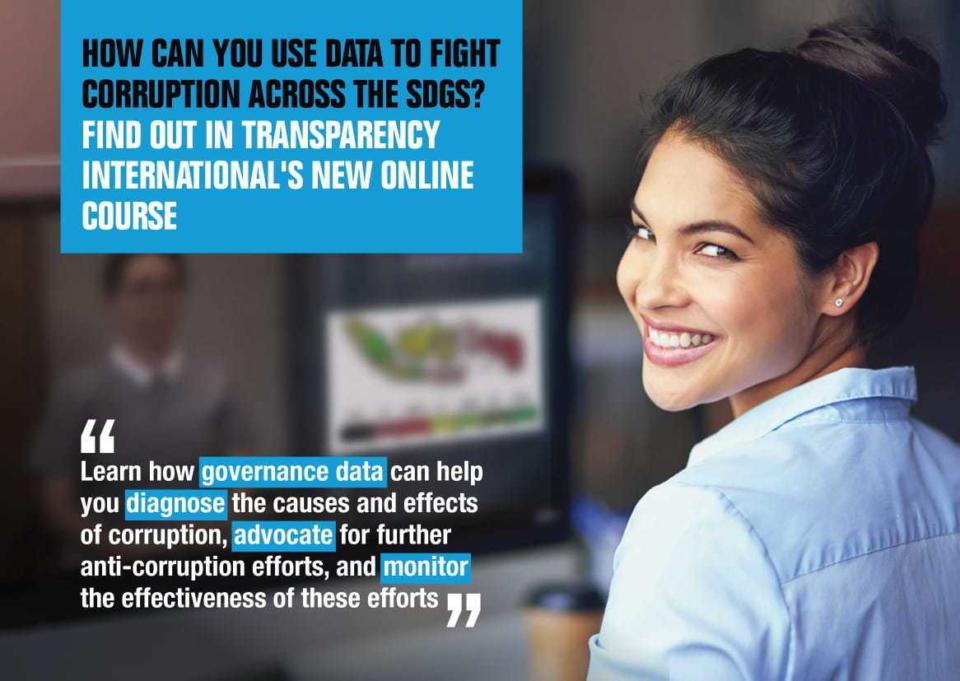 Challenge:
Data is key to understanding and tackling corruption. Effective anti-corruption strategies necessitate detailed knowledge about the manifestations, levels and impact of corruption. We also need information about practices and attitudes that may facilitate corruption and any weaknesses in a given system's integrity framework.
But how much do we really know about the scale, nature, and cost of corruption? Is it possible to measure its impact on people? Can we make meaningful comparisons of corruption between countries? And how do we monitor corruption trends overtime?
Data can help answer these questions and give us the means to drive policy reform. When used effectively, governance data can be a powerful tool to inform citizens, influence decision makers and track the progress of anti-corruption interventions.
However, working with data can seem intimidating. So, Transparency International has created an e-learning course to equip learners with the ideas, skills and knowledge to rise to the challenge. Our hope is that the new proficiency in the use of governance data that learners develop will allow them to produce the kind of evidence-based advocacy that drives change in the real world.
Approach:
The course, which consists of six modules, covers the various stages involved in a governance data project. First, it looks at the value of data for anti-corruption efforts as well as the opportunities provided by the 'data revolution.' Then, it turns to the planning stages of working with data, the process of selecting governance indicators and the identification of suitable data sources, as well as the development of an advocacy strategy to maximise the policy impact of the data generated. Finally, the course demonstrates how to employ governance data to tackle corruption across the Sustainable Development Goals.
Audience and objectives:
This course aims to equip learners with the knowledge and the skills needed to collect, analyse and use governance data to monitor corruption and promote anti-corruption reforms across the SDG framework, from healthcare and education to water and sanitation.
We designed the course with anti-corruption activists and practitioners in mind. Ultimately, we aim to stimulate new initiatives that can further establish the credibility of governance data generated by citizens and civil society to track implementation of the SDGs.
Take the course
To take the course, please contact us at [email protected]

You can access the instructional videos here: https://vimeo.com/channels/corruptionandthesdgs