Illicit Financial Flows in Mozambique

This Anti-Corruption Helpdesk brief was produced in response to a query from a U4 Partner Agency. The U4 Helpdesk is operated by Transparency International in collaboration with the U4 Anti-Corruption Resource Centre based at the Chr. Michelsen Institute.
Query
Please provide an overview of the problem of illicit financial flows in Mozambique, including: estimated losses caused, assessment of the legal and institutional framework to prevent these flows, a comparison with aid flows into Mozambique in the last couple of years, progress made in the last years to tackle the issue (for example, efforts on asset recovery), challenges, current and future risks.
Contents
 Background
 IFFs in Mozambique: the problem in perspective
 Legal and institutional framework against IFFs in Mozambique
 Challenges ahead in the fight against IFFs in Mozambique
 References
Summary
Over the past decade, the concept of illicit financial flows (IFFs) has gained traction within the international development community. According to some calculations, illicit outflows from Africa, for example, surpass the levels of development aid received by the continent, which deprives countries from resources needed to fund public services, improve infrastructure and fuel economic growth. There is, however, a lack of clarity regarding the definition of IFFs, which makes them difficult to delineate, measure and study.
This U4 Expert Answer explores the issue of IFFs in Mozambique. It starts by providing some general background on the issue and its importance for development and the African continent. The second section looks at the main sources of IFFs in Mozambique, including factors such as the high levels of informal economic activity, corruption, illegal activities such as poaching and commercial practices such as trade mis-invoicing. The third section then gives a quick overview of the main regulatory and institutional framework in place to prevent the proliferation of IFFs. The final part reviews some of the main challenges that Mozambique faces in its fight against IFFs.
Authors
Roberto Martinez B. Kukutschka, [email protected]
Reviewer
Kate Muwoki, Transparency International
Date
12/07/2018
Tags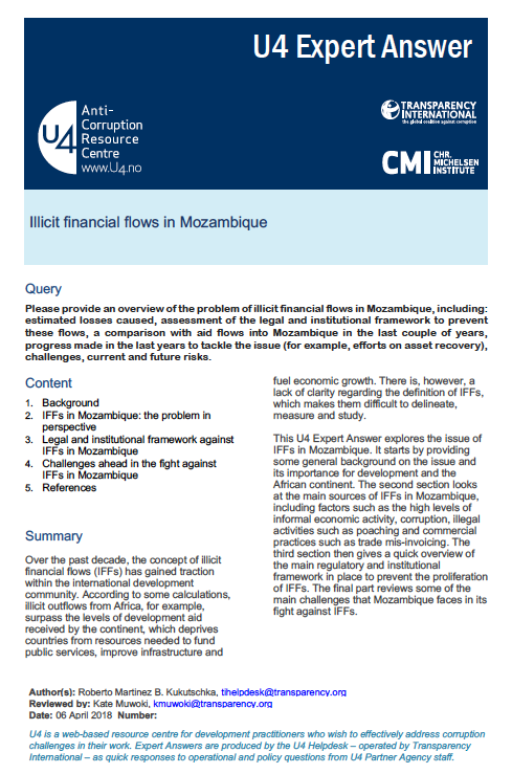 Download PDF
Experts working on this topic
Ion Nastas
Ashutosh Mishra
Costantino Grasso
Related by Country
Assessment methodologies of anti-corruption laws
Corruption and anti-corruption within the research sector and higher education system in Mozambique
Overview of corruption and anti-corruption in Mozambique
Related by Topic
Evidence on the transit and destination financial centres used for the proceeds of corruption
Le rôle de la communauté internationale dans la lutte contre les flux financiers illicites
Best practices in business integrity support provided by investment promotion agencies