Overview of Corruption in the Diamond Sector in Angola

This Anti-Corruption Helpdesk brief was produced in response to a query from a U4 Partner Agency. The U4 Helpdesk is operated by Transparency International in collaboration with the U4 Anti-Corruption Resource Centre based at the Chr. Michelsen Institute.
Query
Please provide a literature review on corruption in the diamond sector in Angola.
Summary
The diamond sector in Angola faces a variety of corruption challenges. These include elite capture of the diamond pipeline, commodity mispricing and corruption fuelled human rights abuses, among others. While sectoral reforms such as ensuring traceability and adopting standards that go beyond conflict-free certification (as in the Kimberley Process) are important, attention must also be paid to the structural factors in the country's political economy that enable capture of the Angolan diamond value chain. The incumbent government is currently making efforts to commercialise and reform the sector to attract foreign investment.
Contents
Background
Diamond sector in Angola
Potential anti-corruption approaches for the sector
References
Main points
In the past, UNITA, the rebel group in Angola used profits from trading in diamonds to fund their struggle in the civil war.
The Angolan diamond sector faced corruption challenges such as elite capture of diamond value chains, commodity mispricing and corruption fueled human rights abuses.
A few anti-corruption approaches that could apply include addressing gaps in the diamond value chain, moving beyond only conflict-focused standards for diamond certification and ensuring traceability, among others.
Caveat
The corruption risks and anti-corruption approaches mentioned in this paper are meant to be illustrative and not exhaustive. Publicly available literature on corruption cases in the diamond sector in Angola are focused on the issues of conflict diamonds during the civil war and elite capture of the diamond industry by the dos Santos family. There is limited information on any potential corruption cases under the current President Lourenço.
Authors
Kaunain Rahman (TI), [email protected]
Reviewers
Sophie Lemaître (U4), Aslak Jangård Orre (CMI) and Matthew Jenkins (TI)
Date
19/07/2022
Tags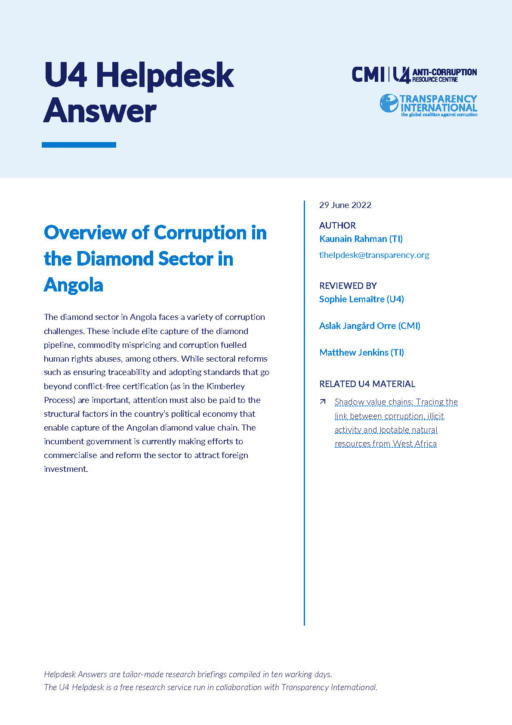 Download PDF