Prosecuting corporate corruption in Europe: An analysis of legal frameworks and their implementation across selected jurisdictions

This Anti-Corruption Helpdesk brief was produced in response to a query from one of Transparency International's national chapters. The Anti-Corruption Helpdesk is operated by Transparency International and funded by the European Union. 
Query
Please provide a comparison of the Sapin II law in France with anti-corruption laws in three or four other European countries as these relate to private companies. In particular, we are interested in comparing the provisions in Sapin II related to whistleblowing, reporting requirements of companies' anti-corruption measures, companies' criminal liability and deferred prosecution agreements (CJIP in France)
Contents
Introduction
Overview of selected legal frameworks
Comparison of selected issues
Conclusion
References
Summary
There has been a substantial movement in the adjudication of private sector corruption across European jurisdictions in recent years. The Sapin II law, passed in 2016 in France, joined the UK Bribery Act in providing some of the most thorough and far-reaching anti-bribery legislation in Europe. But other countries, such as Germany, Italy and the Netherlands, have also seen significant legal reform and/or enforcement action to increase the liability of legal persons for misconduct.
Non-trial resolutions, such as deferred prosecution agreements, have been used increasingly and have led to a substantial rise in bribery cases brought against companies. And while non-trial resolutions come with certain risks that need addressing, they have led to a notable increase in sanctions applied against legal entities. Sanction mitigation for effective compliance programmes, self-reporting, and/or cooperating with authorities has also become more common and has provided a strong incentive for companies to put more effort into preventive measures and addressing shortcomings. Additionally, whistleblower protection has also improved in some jurisdictions over the past few years.
Despite this progress, shortcomings remain in both the legal frameworks and their stringent, transparent, and coherent implementation.
Authors
Jennifer Schöberlein, [email protected]
Reviewer
Roberto Martinez B. Kukutschka, [email protected]

Date
14/05/2019
Tags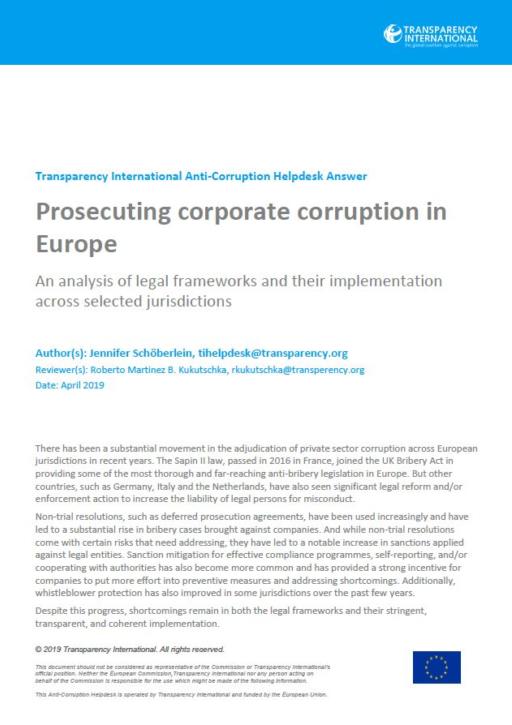 Download PDF