Sri Lanka: Progress Towards Sustainable Development Goal 16
Description
This Sustainable Development Goals (SDGs) parallel report offers an independent review of the government-led 'National Voluntary Review' (NVR) SDG process in Sri Lanka. Produced for the occasion of the United Nations High-Level Political Forum (HLPF) meeting in New York in July 2018, this assessment attempts to provide an objective account of the progress made within the 2030 Agenda for Sustainable Development in Sri Lanka.
The report provides independent analysis to complement and scrutinise official government progress reports related to SDG targets that focus directly on corruption. It provides a comprehensive picture of national anti-corruption progress across a range of policy areas. More specifically, targets 16.4 (illicit financial and arms flows), 16.5 (reduce bribery and other forms of corruption), 16.6 (transparent and accountable institutions) and 16.10 (access to information) are analysed in depth.
The research is based on 175 indicators developed as part of the global Transparency International project.
Findings
SDG Target 16.4: By 2030 significantly reduce illicit financial and arms flows, strengthen recovery and return of stolen assets, and combat all forms of organized crime
With the establishment of the Financial Criminal Investigation Division (FCID) in 2015, Sri Lanka took a firm step toward putting in place systems and policies to fight corruption and financial fraud. Since November 2017, Sri Lanka has made a high-level political commitment to work with the Financial Action Task Force on money Laundering and Asia/Pacific Group on Money Laundering (FATF and APG) to strengthen the effectiveness of its AML/CFT (Global Anti Money Laundering/ Combating the Financing of Terrorism) regime and address any related technical deficiencies. Further, the Financial Intelligence Unit (FIU) of the Central Bank of Sri Lanka (CBSL) has introduced new guidelines in 2018 for Money Laundering and Terrorist Financing to keep records and to report suspicious transactions, in line with the Financial Action Task Force (FATF) on Money Laundering recommendations 22 and 23.  
Sri Lanka is drafting a new provision to specifically address beneficial ownership, transparency of institutions through amendments to the Companies Act.  
A Special Presidential Task Force for Recovery of Illegally Acquired State Assets was established in 2015. Sri Lanka is currently in the process of drafting the Proceeds of Crime Act to enable the recovery of stolen assets. It is anticipated that this Act will address several gaps in Sri Lanka's current legislation related to asset recovery by introducing non-conviction based asset forfeiture and bringing domestic law further in line with Sri Lanka's UNCAC obligations.
SDG Target 16.5: substantially reduce corruption and bribery in all its forms
Sri Lanka does not have legal provisions to regulate campaign finance. However, the Election Commission of Sri Lanka has developed a policy framework on the matter which has been accepted by the Cabinet of Ministers.  
Sri Lanka continued to perform poorly in the 2017 Global Corruption Barometer (GCB)8 with 15%- 20% of the Sri Lankan public still experiencing bribery same as in 20139. The Police appears to be the highest bribe accepting entity according to the data.  
Even though Sri Lanka has taken steps to ensure its anti-corruption framework complies with the provisions of the United Nations Convention against Corruption (UNCAC), more needs to be done to ensure it full compliance with the mandatory and non-mandatory provisions of the UNCAC. This includes the areas of private sector corruption, recovery of stolen assets and regulation of campaign finance. in the areas of including private sector corruption and asset recovery.  
Sri Lanka's Bribery Act does not include private sector corruption. However, the Commission to Investigate Allegation of Bribery or Corruption (CIABOC) has demonstrated an interest in this area through public consultation and in the process of developing the National Anti-Corruption Action Plan.
Sri Lanka does not have a specific Law or a provision that address lobbying.
SDG Target 16.6: develop effective, accountable and transparent institutions at all levels
Sri Lanka has a legal framework that requires a fairly high degree of fiscal transparency. Although the budget documents are published, accessibility of documents and contribution to the budget formulation process by the public is still limited.  
There is no Law or regulation that governs public procurement but a set of guidelines that sets the framework. However, even though the electronic procurement is not yet fully established, some institutions have started adapting it.  
Sri Lanka does not have a Law to protect whistleblowers. However, limited provisions are available under the Victims of Crime and Witnesses Act which in practices is still not utilized due to lack of awareness of the provisions within the Act.
SDG Target 16.10: ensure public access to information and protect fundamental freedoms
The 19th Amendment to the Constitution of Sri Lanka acknowledged the Right to Information as a fundamental right. Following this the Right to Information Act was passed in 2016. The law at present is considered to be the third best legislation on Right to Information in the world according the ranking done by Center for Law and Democracy.
According to the data available Sri Lanka is categorized as "partly free" in Freedom House's Freedom in the World rating. Although the Freedom of Expression is a Fundamental Right in the Constitution and has improved since 2015, there have been instances of online news media censorship and social media blocking.
Authors
Winoth Lakshan Ilangka
Date
26/07/2018
Tags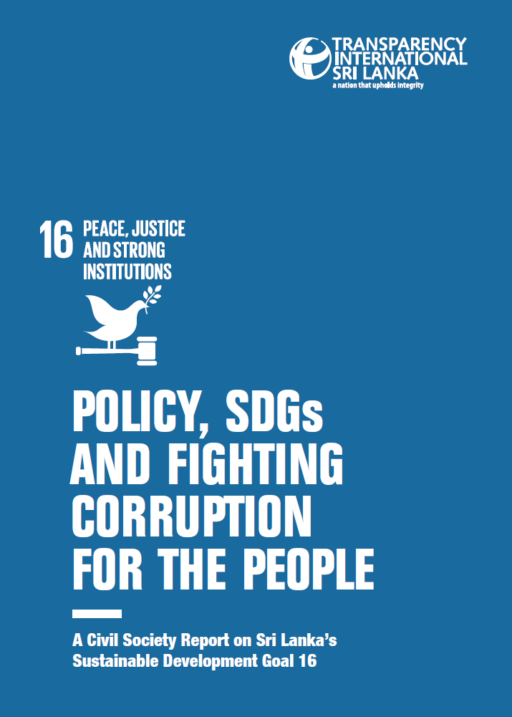 Download PDF
Experts working on this topic
Varuzhan Hoktanyan
Paul Heywood
Morten Koch Andersen
Related research
Donor accountability mechanisms to curb corruption in aid
Corruption in times of crisis
Corruption and anti-corruption in Sudan
Panorama de la corruption et de la lutte anti-corruption en République démocratique du Congo (RDC)
Anti-corruption strategies for development agencies during the COVID-19 pandemic