Best practices for whistleblowing in sport

This Anti-Corruption Helpdesk brief was produced in response to a query from one of Transparency International's national chapters. The Anti-Corruption Helpdesk is operated by Transparency International and funded by the European Union. 
Query
What are good practices in establishing whistleblowing mechanisms in sports to combat corruption, match-fixing and other illegal and unethical practice in sports?
Content
Overview of corruption in sport
Whistleblowing in sport
Examples of good practices in whistleblowing in sports
Further reading
References
Summary
Sport is a sector that is particularly vulnerable to corruption, characterised by large revenue streams and often inadequate transparency and oversight mechanisms. The multitude of players involved, from private firms, public institutions, charities, amateur sporting associations, civil society and fans also complicates efforts to tackle corruption on and off the pitch. 
Whistleblowers face numerous challenges when speaking up about sports corruption. The very nature of corruption in sport makes speaking out against match-fixing, doping or other ethical behaviour fraught with potential dangers of retaliation. Whistleblowers face pushback from numerous sources, including sports officials, criminal organisations and even fellow athletes.
There are steps that can be taken to promote whistleblowing in sport as it relates to corruption. Channels to denounce corruption, as well as proactive support mechanisms for whistleblowers can encourage athletes, coaching staff and officials to come forward. Some sports governing bodies have taken significant steps to provide whistleblowers with the access and support necessary to make use of the information they provide.
Authors
Iñaki Albisu Ardigó, [email protected] 
Reviewers
Matthew Jenkins and Thomas Vink, Transparency International.
Date
13/09/2018
Tags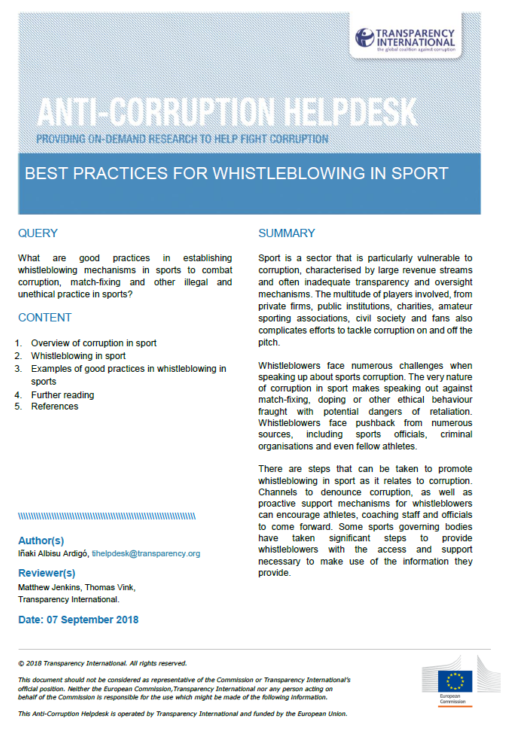 Download PDF
Experts working on this topic
Su Su
Maria Krambia Kapardis
David Banisar
Related by Country
Collusion in public procurement contracts
Use of governance and corruption indicators in incentive programmes
Harmful rents and rent-seeking
Related by Topic
The impact of the General Data Protection Regulation on whistleblowing
Overview of whistleblowing software
Best Practice and Challenges for Whistleblowing Systems in Multinational Companies