Corruption in investor-state arbitration

This Anti-Corruption Helpdesk brief was produced in response to a query from one of Transparency International's national chapters. The Anti-Corruption Helpdesk is operated by Transparency International and funded by the European Union. 
Query
Please provide an overview of corruption in investor-state arbitration
Summary
This paper explores legal and policy issues relating to the Process & Industrial Developments Limited v Federal Republic of Nigeria arbitration, focusing on suspicions and allegations of corruption in that case. It concerns a 2010 contract relating to the construction and operation of a gas processing facility between Process and Industrial Developments Ltd (P&ID), a company incorporated in the British Virgin Islands, and the Nigerian Ministry of Petroleum Resources. Less than three years after the contract was signed, P&ID initiated arbitration, alleging that Nigeria had not performed its obligations under the contract and seeking damages for lost profits. Despite a number of corruption related red flags in the contract, Nigeria did not raise the issue of corruption in its defence in the arbitration. The tribunal concluded that Nigeria had repudiated the contract. It awarded P&ID US$6.6 billion in damages plus 7 per cent interest per annum, even though neither party had taken significant steps to perform their obligations under the contract.
Nigeria did not immediately pay the award. In response, in 2018, P&ID commenced proceedings in English courts to enforce the award. Nigeria has now belatedly raised allegations of corruption in its attempt to avoid enforcement of the award in English courts. It alleges a long-running corrupt conspiracy in which associates of P&ID paid bribes to the Ministry of Petroleum Resources officials to obtain the contract and to ensure that the Ministry did not vigorously contest the subsequent arbitration. We take no position on whether these allegations are true; there are questions about both P&ID and Nigeria's accounts. Even if many of Nigeria's troubling claims of a long-running corruption conspiracy are false or exaggerated, the case still raises important policy questions about the intersection of corruption in public procurement, low state capacity and international arbitrations conducted behind closed doors.
Contents
Introduction
Legal framework
Examples of arbitral tribunals' handling of allegations and suspicions of corruption
Policy analysis and a reform agenda
Caveat
The research and discussion in this paper is general in nature and does not constitute legal advice.

Authors
Jonathan Bonnitcha (jonathan.bon[email protected]) and Alisha Mathew ([email protected])

Reviewers:
Vaclav Prusa, Civil Society Legislative Advocacy Centre ([email protected]), Kush Amin and Adam Foldes ([email protected])
Date
28/09/2020
Tags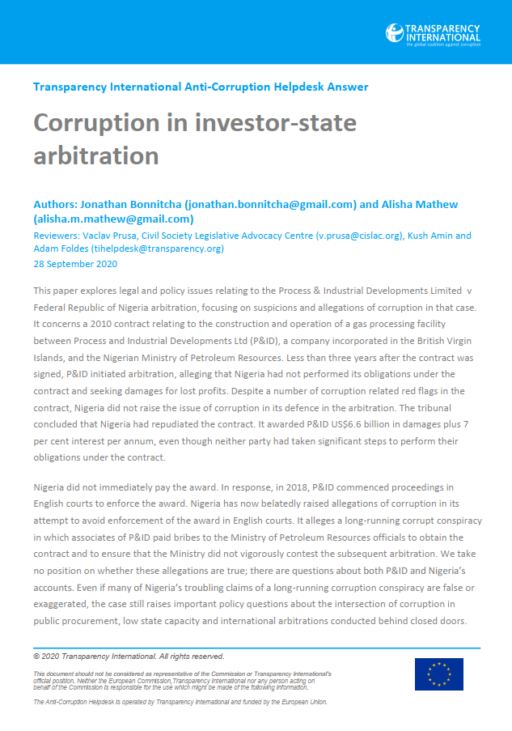 Download PDF
Experts working on this topic
Daban Sabir
Kyela Leakey
Luís de Sousa
Related by Country
GOOD PRACTICE IN ACCESS TO INFORMATION LAWs
Sequencing of Law Enforcement Interventions to Combat Corruption
Literature review on the linkages between illegal logging and conflict
Related by Topic
Environmental crime and corruption
State capture in Asia Pacific
RECOUVREMENT DES AVOIRS EN ÉGYPTE, EN LIBYE ET EN TUNISIE : LES LECONS A TIRER