Multilateral organisations' integrity management systems

This Anti-Corruption Helpdesk brief was produced in response to a query from a U4 Partner Agency. The U4 Helpdesk is operated by Transparency International in collaboration with the U4 Anti-Corruption Resource Centre based at the Chr. Michelsen Institute.
Query
Please provide an overview of the core principles of integrity management in multilateral organisations.
Summary
Multilateral organisations, such as United Nations bodies, are mandated to address crucial global challenges, ranging from climate change, peacekeeping and security to relations between states, sustainable development and the protection of human rights. To fulfil these ambitious missions, they are allocated substantial volumes of money, including by bilateral donor agencies from OECD-DAC states.
These two factors – central political importance and large budgets – mean that it is vital for citizens around the world that multilateral organisations have robust internal governance mechanisms in place. Strong checks and balances are required to prevent corruption and other forms of misconduct by staff from undermining these organisations' ability to protect people, the planet and prosperity.
Since there is no "one size fits all" integrity management system that would cater to the existing variety of multilaterals, this paper highlights key integrity functions at a level high enough that it can be subsumed into anti-corruption programming. The key integrity functions include: i) prevention; ii) detection; iii) investigation; iv) sanctions; and v) disclosure.
Contents
Background
Integrity management systems
Prevention
Detection
Investigation
Sanctions
Disclosure
3. References
Main points
There is no "one size fits all" system that would cater to the existing range of multilaterals with differing institutional, strategic and operational realities. There are, however, key functions that should be a feature of each multilateral organisation's integrity framework.
Prevention: including ex-ante PEA analysis, risk management, due diligence, operational guidelines on anti-corruption and so on.
Detection: including whistleblower protection, monitoring.
Investigation: including internal and external audits.
Sanctions: including debarment.
Disclosure: including of cases of corruption and outcome of internal investigations.
Caveat
The focus of this paper is on the key features of integrity systems of multilateral organisations rather than multilateral development banks (MDBs), which have been previously covered in a different paper that can be found here. The integrity features and various examples drawn from a range of multilateral organisations are meant to be illustrative rather than exhaustive.
Moreover, there is limited information available in the public domain about bilateral donors' working practices vis a vis multilaterals. Several integrity frameworks at particular agencies only cover fraud risks. While the phenomenon of fraud and corruption overlap in several areas, they must not be understood interchangeably. Finally, this Helpdesk Answer includes boxes containing reflections on potential entry points for bilateral donors to engage with multilaterals on integrity issues. These boxes are drawn from a judicious reading of the literature and insights gleaned from conversations with practitioners.
Authors
Kaunain Rahman (TI), [email protected]
Reviewers
Guillaume Nicaise (U4), [email protected]
Matthew Jenkins (TI), [email protected]
Date
29/04/2022
Tags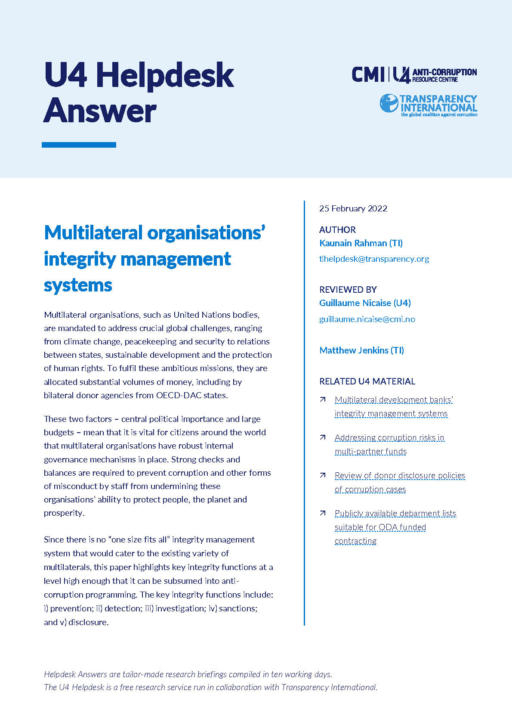 Download PDF