Overview of corruption and anti-corruption in Iraq

This Anti-Corruption Helpdesk brief was produced in response to a query from a U4 Partner Agency. The U4 Helpdesk is operated by Transparency International in collaboration with the U4 Anti-Corruption Resource Centre based at the Chr. Michelsen Institute.
Query
Please provide an overview or corruption challenges and anti-corruption efforts in Iraq.
Summary
Since the fall of Saddam Hussein in a US-led military operation in 2003, Iraq has struggled to build and maintain political stability, safety and the rule of law. Deeply entrenched corruption continues to be a significant problem in the country and a core grievance among citizens. Among the country's key challenges, and at the root of its struggle with corruption is its consociationalist governance system, known as muhasasa, which many observers contend has cemented sectarianism, nepotism and state capture.
Consecutive governments since 2003 have promised to tackle corruption through economic and political reform. But, as yet, these promises have not been followed by sufficient action. This is partly due to an unwillingness to tackle the systemic nature of corruption, weak institutions ill-equipped to implement reform efforts and strong opposition from vested interests looking to maintain the status quo. As a result, Iraq is left with an inadequate legal framework to fight corruption and with insufficiently equipped and independent anti-corruption institutions.
Trust in government and the political process has been eroded, erupting in ongoing country-wide protests against corruption, inadequate service delivery and high unemployment. This leaves the new government of Prime Minister Kadhimi, who has once more promised to tackle the country's massive corruption challenges, with a formidable task at hand.
Contents
Introduction
Drivers of corruption
Scale of corruption
Key areas affected
Anti-corruption efforts and their effectiveness
References
Main points
A recent history of political instability, violence and authoritarianism have left Iraq with weak institutions, weak rule of law and vested interests resistant to reform.
Sectarianism has decreased in recent years, allowing for a greater focus on issue-based politics. But it is still deeply entrenched in Iraq's governing system, which is at the root of many of the country's corruption challenges.
The state's dominant position in the economy, an underdeveloped private sector, overreliance on oil and the role of militias have facilitated high levels of state capture.
Recent years have seen citizen perceptions about corruption worsen and trust in government and its institutions declining, indicating a growing gap between citizens and the state.
A powerful protest movement against corruption emerged in recent years which, in a first, cuts across sectarian lines and makes concrete demands on government, pressuring the latter to issue more meaningful reforms.
Authors
Jennifer Schoeberlein [email protected]
Reviewers:
Saul Mullard (U4 Anti-Corruption Resource Centre) and Matthew Jenkins (Transparency International)
Date
08/02/2021
Tags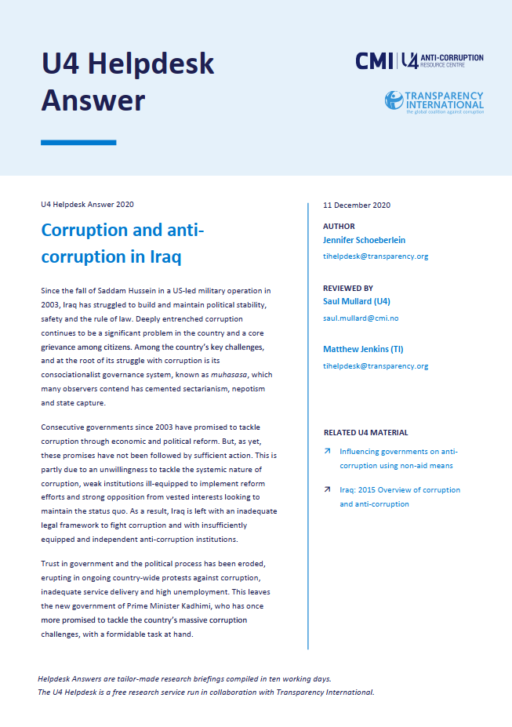 Download PDF
Experts working on this topic
Michael Breen
Claudia Baez-Camargo
Elda Fim
Related by Country
Iraq: overview of corruption and anti-corruption
Overview of national approaches to anti-corruption packages
Iraq: overview of corruption and anti-corruption
Related by Topic
Methodologies for the analysis of political party programmes
Technical assistance in the field of integrity of carbon reduction incentives mechanisms
Review of donor disclosure policies of corruption cases