Overview of corruption and anti-corruption in the Democratic Republic of the Congo

This Anti-Corruption Helpdesk brief was produced in response to a query from one of Transparency International's national chapters. The Anti-Corruption Helpdesk is operated by Transparency International and funded by the European Union. 
Query
Provide an overview of corruption and anti-corruption in the Democratic Republic of Congo.
Summary
Emerging from the contested elections of 2018, Felix Tshisekedi has been installed as the new president of the Democratic Republic of the Congo. Tshisekedi has inherited a corrupt and inefficient state apparatus that struggles with its legitimacy and is embroiled in multiple deadly conflicts.
At the heart of the corruption and conflict are the forms of neopatrimonial governance and state capture that have defined politics in the DRC for decades. Powerful patron-client networks reproduce corruption and predation at every link of the hierarchy, putting the greatest burdens on low-ranking corrupt officials and ordinary citizens.
The DRC has a legal framework with some potential for improving its fight against corruption, but implements it very poorly. A key issue, therefore, is ensuring independent and autonomous anti-corruption institutions that can put an end to the impunity of those benefiting from corruption.
Contents
Background
Extent of corruption
Nature of corruption challenges
Sectors vulnerable to corruption
Anti-corruption framework
Stakeholders
Main points
The Congolese state has been captured by powerful patronage networks.
Corruption in the DRC has taken on a logic of its own. It allows those at the top of patron-client networks to get rich and those on the bottom to survive.
The DRC's legal framework has a good foundation for countering corruption, but it is not being implemented.
Authors
Mathias Bak, [email protected]
Reviewer
Jon Vrushi, Transparency International, Ernest Mpararo, Ligue Congolaise de Lutte contre la Corruption (LICOCO)

Date
10/07/2019
Tags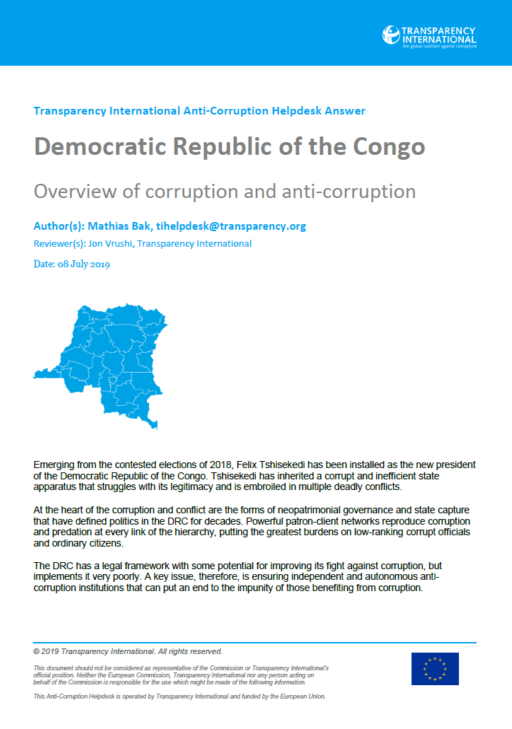 Download PDF
Experts working on this topic
Patty Zakaria
Michael Johnston
Francesco Clementucci
Related by Country
Panorama de la corruption et de la lutte anti-corruption en République démocratique du Congo (RDC)
Overview of corruption and anti-corruption in the Democratic Republic of Congo (DRC)
Panorama des risques de corruption lies aux programmes REDD+ dans le bassin du Congo
Related by Topic
Alternative pathways to address impunity in grand corruption cases
Serbia: overview of political corruption
Best practice in implementing EITI