The role of private actors in asset recovery: The growing use of private litigation funding

This Anti-Corruption Helpdesk brief was produced in response to a query from a U4 Partner Agency. The U4 Helpdesk is operated by Transparency International in collaboration with the U4 Anti-Corruption Resource Centre based at the Chr. Michelsen Institute.
Query
Recent years have seen increasing involvement of private actors in asset recovery cases, notably to bear the litigation costs of such processes. What is the impact of this growing engagement by private sector players?
Summary
Among the many barriers to asset recovery, the lack of funding is a prominent challenge. Destination countries, on the one hand, are often criticised for not allocating sufficient resources to prevent corrupt actors from hiding and laundering stolen assets and the proceeds of corruption in their territories.

Origin countries seeking to recover assets located abroad, on the other hand, often lack funding to support complex and intricate international legal assistance proceedings. Coupled with obstacles to international cooperation, the meagre amount of resources dedicated to recovering ill-gotten gains stashed abroad explains why only a tiny fraction of stolen assets and proceeds of corruption are recovered.

More and more countries are attempting to recover illegally obtained assets through private proceedings based on civil lawsuits, which can be faster and more efficient than the criminal avenue based on international cooperation, and yet are considerably more expensive.
Private litigation funding can therefore appear to claimants in origin countries to be an attractive option to cover the high costs of civil lawsuits. Under this model, a third-party finances all or part of the claimant's legal expenses in return for a percentage of any proceeds recovered from the resolution of the dispute.
Largely unregulated, private litigation funding brings with it a new set of risks and challenges in the asset recovery area, such as conflicts of interest or lack of transparency and may, ultimately, undermine the whole process of asset recovery and reinforce public distrust in measures to counter corruption.
Contents
Background: private actors and asset recovery

States and non-state actors in asset recovery
Civil action as a tool for asset recovery
Financial challenges in asset recovery

Private litigation funding: a promising solution for asset recovery?

Overview of private litigation funding
Potential use in asset recovery
New trends and practices of private litigation funding in asset recovery

References
Main Points
Origin countries increasingly use private lawsuits based on civil proceedings to recover assets.
Providing many valuable advantages, the civil route nonetheless comes with high litigation costs.
The involvement of private actors who bear the litigation costs of asset recovery cases appears to be one option to address this funding issue.
Private litigation funding in asset recovery remains scarcely regulated, which gives rise to risks of conflict of interest and opacity.
Alongside a growing role for traditional models of private litigation funding, more novel practices, such as the sale of claims by origin countries to groups of investors, also appear to be on the rise, which brings additional risks and challenges to the integrity of the process and may, ultimately, undermine the whole asset recovery process and reinforce public distrust in measures to counter corruption.
Authors
Sara Brimbeuf (TI France, [email protected]

Reviewers:
Sophie Lemaître (U4), Matthew Jenkins and Kush Amin (TI), Jackson Oldfield (CiFAR)
Date
14/06/2022
Tags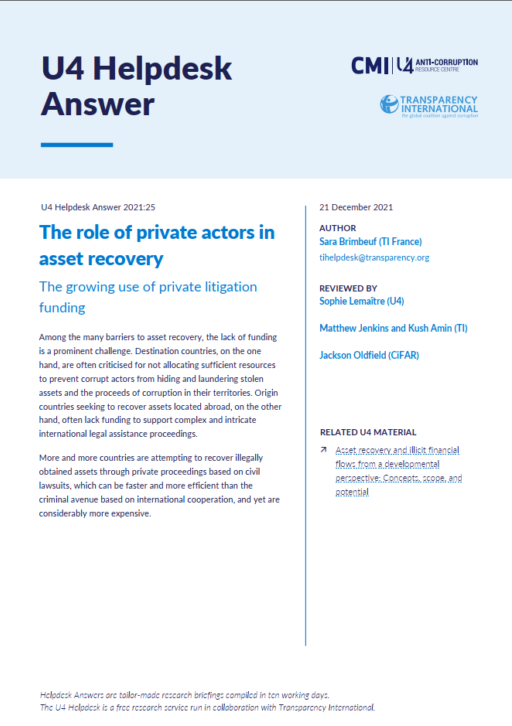 Download PDF
Experts working on this topic
Alvaro Ceballos
Patrice Poitevin
Alma Sedlar
Related by Country
Labour and employers' associations, corruption risks and the potential of social dialogues
OVERVIEW OF PRACTICES FOR THE COLLECTION OF CORRUPTION DATA AND STATISTICS IN EU MEMBER STATES
Examples of anti-corruption clauses in cooperation agreements
Related by Topic
Lessons Learnt in Recovering Assets from Egypt, Libya and Tunisia
Political Party Accountability: Intra-party democracy, funding, and minimum standards for candidates
Blended finance: integrity and anti-corruption standards