Women's empowerment and corruption in Uganda

This Anti-Corruption Helpdesk brief was produced in response to a query from a U4 Partner Agency. The U4 Helpdesk is operated by Transparency International in collaboration with the U4 Anti-Corruption Resource Centre based at the Chr. Michelsen Institute.
Query
We would like to get an overview of the corruption challenges that currently exist in West Nile and Karamoja, in Uganda, and the measures that could potentially be designed in a project to mitigate them.
Contents
Background: social, political and gender conditions in West Nile and Karamoja
Corruption risks
Measures to mitigate corruption risks
References
Summary
West Nile and Karamoja sub-regions, in the Northern Region of Uganda, are characterised by a history of conflict and a current state of latent conflict. Ethnic tensions, distrust towards the national government, conflicts around land and natural resources, unresolved war legacies and insecurity are among the challenges existing in that area. The main challenges for women in the northern part of Uganda are discriminatory social norms and belief systems and physical integrity.
In recent years, the government of Uganda has undertaken several institutional initiatives to acknowledge the importance of women in Ugandan society and to monitor government's progress in reducing the gender gap. Despite progress is this regard, several indicators show a worsening in the levels of corruption perception despite the existence of a regulatory and legal system to combat it.
Considering the social, political, economic and gender conditions in West Nile and Karamoja, the following factors are associated with corruption: government legitimacy challenges, ethnic and religious divisions, foreign aid inflows and capacity challenges, cross border trade, legacy of the wartime, land and natural resources, lack of awareness of legal rights, informal economy and social norms. Some of the measures to mitigate those corruption risks include: gender-focused anti-corruption approaches, leveraging social norms and influencing behaviour, institutional and legal approaches, and considering particular principles to address corruption in post-conflict contexts.
Authors
Nieves Zúñiga, Transparency International, [email protected]
Reviewer
Monica Kirya, U4 Anti-Corruption Resource Centr
Date
20/12/2018
Tags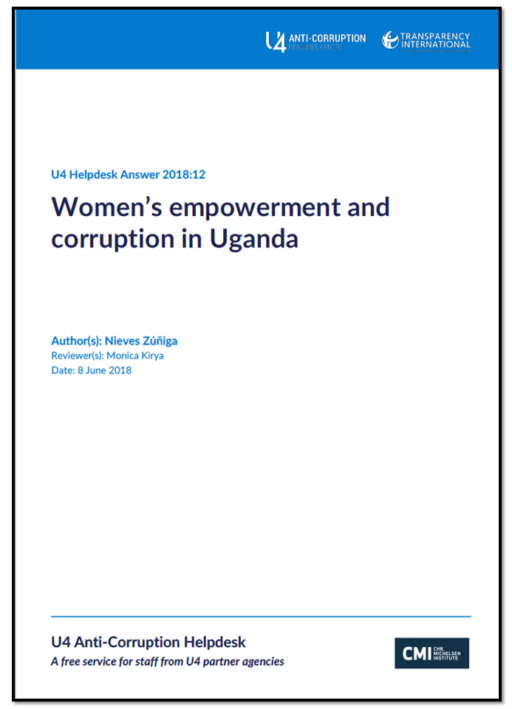 Download PDF
Experts working on this topic
Roberto Kukutschka
Georg Neumann
Pedro Martín Páez Bimos
Related by Country
Models of donor coordination for managing multi-donor inputs
Uganda: Overview of corruption and anti-corruption
Strategies to tackle corruption in local government procurement in Asia and Africa
Related by Topic
Corruption and marginalisation
L'impact de la corruption sur la croissance et les inégalités
The impact of corruption on access to safe water and sanitation for people living in poverty