Afghanistan: Progress Towards Sustainable Development Goal 16
Description
This Sustainable Development Goals (SDGs) parallel report offers an independent review of the government-led 'National Voluntary Review' (NVR) SDG process in Afghanistan. Produced for the occasion of the United Nations High-Level Political Forum (HLPF) meeting in New York in July 2017, this assessment attempts to provide an objective account of the progress made within the 2030 Agenda for Sustainable Development in Afghanistan.

The report provides independent analysis to complement and scrutinise official government progress reports related to SDG targets that focus directly on corruption. It provides a comprehensive picture of national anti-corruption progress across a range of policy areas. More specifically, targets 16.4 (illicit financial and arms flows), 16.5 (reduce bribery and other forms of corruption) and 16.10 (access to information) are analysed in depth.
The research is based on 175 indicators explicitly developed as part of the global Transparency International project.

Summary
The Islamic Republic of Afghanistan's sustainable development – and ability to achieve its Sustainable Development Goal (SDG) commitments – is continually undermined by the widespread, systemic presence of corruption in the country.

Led by the Ministry of Economy, the Afghan government has developed its SDG implementation plan. The plan will present an Afghanised version of the SDGs – including the Afghanistan Sustainable Development Goals (A-SDGs) targets and indicators – and will pave the way for national alignment of the A-SDGs with Afghanistan's national policies and budgeting processes. The alignment process was completed by December 2017, with full implementation of the A-SDGs expected to commence in 2018.
However, civil society is concerned that fighting corruption has not been given the attention it deserves in the A-SDG implementation plan. Despite numerous consultations undertaken by the government with non-government entities during the A-SDG drafting process, SDG Goal 16 (which includes corruption) has not been openly discussed in public consultation processes and it is unclear what the A-SDGs targets and indicators concerning corruption will look like. It is also unclear to what extent civil society will be involved in monitoring and reporting against the A-SDG targets and indicators.
Findings
SDG Target 16.4: By 2030 significantly reduce illicit financial and arms flows, strengthen recovery and return of stolen assets, and combat all forms of organized crime
Afghanistan has made strong progress on anti-money laundering and the proceeds of crime. At a technical level, Afghanistan has substantially implemented its Financial Action Task Force (FATF) recommendations. At a practical level, national authorities are being notified of suspicious transitions and a few cases of money laundering cases have been investigated and prosecuted.
Despite Afghan law requiring financial institutions to collect and share information on beneficial ownership, this is not happening in practice. The Afghan government has committed to establishing a public central registry of beneficial ownership and a multi-agency working group has been established to implement this commitment.
SDG Target 16.5: substantially reduce corruption and bribery in all its forms

Afghanistan's Anti-Corruption Framework is not compliant with the UN Convention against Corruption. Afghanistan does not have a comprehensive anti-corruption law and the current Afghan laws criminalising corruption are not in line with the convention.
Afghanistan relies on multiple anti-corruption agencies to carry out anti-corruption functions, however the agencies are not forming an effective, comprehensive system. In its report Bridging the gaps: Enhancing the Effectiveness of Afghanistan's Anti-corruption Agencies (2017), Transparency International analysed Afghanistan's current anti-corruption agency system and proposed three reform models that could lead to a more effective, independent and sustainable system in the country.
Civil society is not meaningfully included in the development and implementation of governance and anti-corruption legislation and policies, including allocation and oversight of the national budget.
Afghanistan law recognises whistleblowers and provides some protections, but does not have a comprehensive whistleblower protection law that is in line with international standards. Furthermore, potential whistleblowers are deterred from reporting out of fear for their personal safety.
Transparency in public procurement and government contracting has improved in recent years, with the government publishing eight key budget documents and the National Procurement Authority publishing limited information on most government procurement contracts.
SDG Target 16.10: ensure public access to information and protect fundamental freedoms
Access to information is a right that is recognised in the Constitution of Afghanistan and the Access to Information Law (ATI Law), which ensures the right of access to information for all citizens. However, in practice information is often accessed through personal connections rather than through applying the procedures set out in the ATI Law.
Authors
Edris Arib
Date
08/03/2018
Tags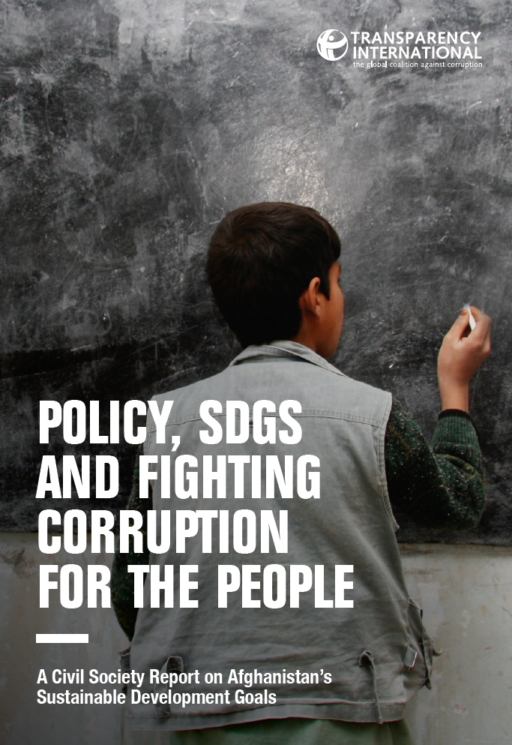 Download PDF
Experts working on this topic
Robert Gillanders
Varuzhan Hoktanyan
Costantino Grasso
Related research
Iraq: overview of corruption and anti-corruption
Overview of Corruption and anti-corruption in Bangladesh
Literature review of corruption and anti-corruption in Palestine
Anti-corruption and police reform
Mainstreaming anti-corruption within donor agencies