Grand Corruption and the SDGs - The visible costs of Mozambique's hidden debts scandal
Description
At the start of the 2010s, there was real optimism that newly discovered resource wealth could help Mozambique overcome its acute development challenges. Much of this optimism has been undone by the hidden debts scandal. In collaboration with employees in an international bank, a group of senior Mozambican government officials secured US$2.2 billion in off-budget loans. Ostensibly intended to build a fishing fleet and fund maritime security, large amounts of these funds were instead diverted to private pockets. The discovery of the scandal contributed to an economic downturn in 2016 and has set back efforts to reduce persistent poverty and inequality. Funds that should have been available for investment in the SDGs, such as education and support to small-scale fishing communities, have instead been squandered. The burden of servicing unsustainable levels of debt will additionally have long-term negative implications for financing Mozambique's development needs.
In numbers:
US$200 million: estimated losses in bribes and kickbacks as part of thescandal, sixteen times more than the annual amount allocated to the Direct School Grants Programme.
US$2.2 billion: the amount in offbudget loans secured between 2009 and 2014, equivalent to two-thirds of the 2018 budget allocation to social
priorities such as education, health, infrastructure and rural development.
US$58.6 million: the amount invested in the Artisanal Fisheries Promotional Project since 2011, as opposed to US$350 million squandered on EMATUM
Authors
Thomas Shipley
Reviewer:
Matthew Jenkins
Date
08/01/2020
Tags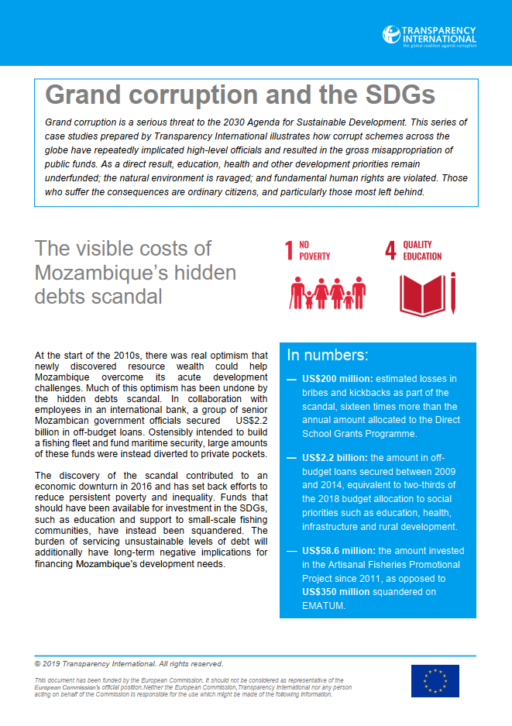 Download PDF
Experts working on this topic
Max Heywood
Taryn Vian
Jacques Hallak
Related research
Panorama de la corruption et de la lutte contre la corruption au Bénin
RECOUVREMENT DES AVOIRS EN ÉGYPTE, EN LIBYE ET EN TUNISIE : LES LECONS A TIRER
Corruption and anti-corruption within the research sector and university system in Bolivia
CORRUPTION IN THE HEALTH SECTOR IN VIETNAM
How could anti-corruption interventions tackling global corruption benefit the UK?