Greece: Progress Towards Sustainable Development Goal 16
Description
This Sustainable Development Goals (SDGs) parallel report offers an independent review of the government-led 'National Voluntary Review' process in Greece.
The report provides independent analysis to complement and scrutinise official government progress reports related to SDG targets that focus directly on corruption. It provides a comprehensive picture of national anti-corruption progress across a range of policy areas. More specifically, targets 16.4 (illicit financial and arms flows), 16.5 (reduce bribery and other forms of corruption), 16.6 (transparent and accountable institutions) and 16.10 (access to information) are analysed in depth. The report includes a number of policy recommendations to make headway against corruption in Greece.

Summary
In an environment of prolonged economic crisis, Greece is struggling to achieve its Sustainable Development Goal commitments while recognising the importance of an anti-corruption plan in order to promote transparency in both the public and private sector. Drivers of corruption include the lack of appropriate oversight mechanisms to control the public sector, vague or overlapping responsibilities of overseeing bodies, political influence in decision public decision making, the slow judicial procedures and a patchy legal framework against corruption.
Recommendations for the Greek government
SDG 16.4

actively investigate and prosecute cases of money laundering, drug trafficking and other forms of organised crime;
create a registry of beneficial ownership;
follow up on the EU legislation, by incorporating on time all the EU Directives and the measures proposed;
record the results of its actions in relation to recovery and return of stolen assets and make them public;
strengthen mechanisms for asset recovery, in order to address issues, such as seizure and confiscation of proceeds from money laundering without requiring a criminal conviction (non-conviction-based confiscation) and recognition/enforceability of foreign non-conviction-based confiscation/forfeiture orders.
SDG 16.5
pass a law regulating lobbying of political actors, in line with international standards;
monitor the implementation of legal framework concerning the financing of political parties;
monitor the implementation of legal framework concerning interest declarations and income as well as asset disclosures and code of conduct of public officials.
SDG 16.6
pass a standalone whistleblower protection law that is in line with international standards; Also, the protection of whistleblowers, following the International Organizations recommendations shall be strengthen;
give priority to cases of corruption regarding civil servants and public officials in courts;
enhance information on accountability and anti-Corruption action in the public sector;
adopt internal monitoring structures in all ministries, departments, bodies and Local Authorities;
develop a training policy to support long-term anti-Corruption strategic planning and capacity development for the public sector.
SDG 16.10

support, protect and promote investigative journalism and civil society activists;
take appropriate measures in order to deal effectively with Greek bureaucracy, in order to ensure people's access to information;
establish a competent authority to investigate the refuse of access to public documents;
adopt a comprehensive legal framework to promote the open and participatory governance.
Authors
Researcher: Eleni Kloukinioti
Legal reviewer: Eleni Kalogeraki
Editorial reviewer: Piyi Yiatra
Date
19/02/2019
Tags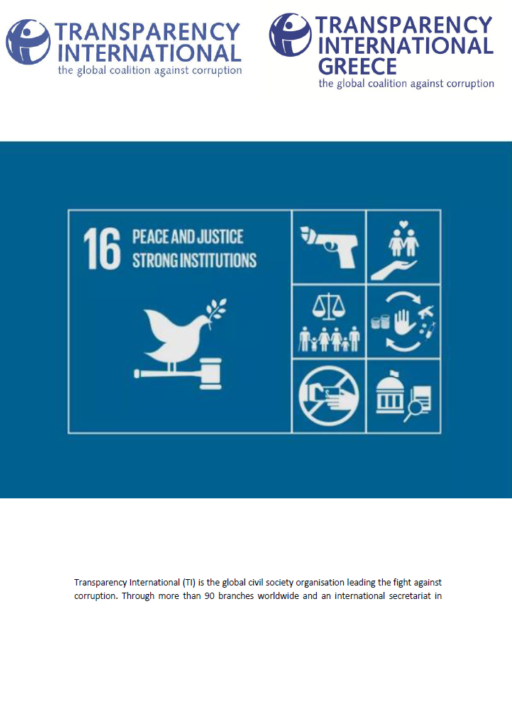 Download PDF
Experts working on this topic
Kevin Deveaux
Paul Heywood
Aled Williams
Related research
Anti-corruption strategies for development agencies during the COVID-19 pandemic
Literature review on the link between corruption, poverty and conflict, and evidence of the impact o
Panorama de la corruption et de la lutte anti-corruption en République démocratique du Congo (RDC)
Impact of international asset recovery and anti-money laundering efforts on poverty reduction and po
Good practice in donors' anti-corruption strategies