Anti-Corruption in The Commonwealth

This Anti-Corruption Helpdesk brief was produced in response to a query from one of Transparency International's national chapters. The Anti-Corruption Helpdesk is operated by Transparency International and funded by the European Union. 
Query
How successful have Commonwealth member states been in fighting corruption? To what extent can any successes be attributed to their Commonwealth membership? How effective has the Commonwealth been, as an institution, in fighting corruption?
Content
The Commonwealth: background
The Commonwealth work on anti-corruption
Corruption and anti-corruption in Commonwealth countries
The impact of the Commonwealth in fighting corruption
References
Summary
The Commonwealth supports member countries in their fight against corruption by providing assistance in drafting legislation, training public officials, promoting best practices, and connecting the public and the private sector to reduce corruption. In particular, the institution has focused on strengthening governance and the public sector, reinforcing the rule of law, improving transparency in the management of natural resources industries and supporting integrity in sport. In the last years, the Commonwealth has increased its interventionist role by pressuring member countries to comply with anti-corruption standards as a pre-condition for obtaining aid.
According to Transparency International's Corruption Perception Index (CPI), some Commonwealth countries are among the best performers in their regions. At the regional level, corruption perception of Commonwealth countries in Africa, Asia and the Caribbean is also better when compared to non-Commonwealth countries in those regions. These findings, however, do not necessarily mean that all members are successful at the country level. To what extent the Commonwealth has a positive effect in a country's performance to curb corruption is difficult to assess since its support is meant to have a long-term effect that is difficult to measure and contextual factors intervene in the anti-corruption dynamics of each country.   

Authors
Nieves Zúñiga
Date
05/03/2018
Tags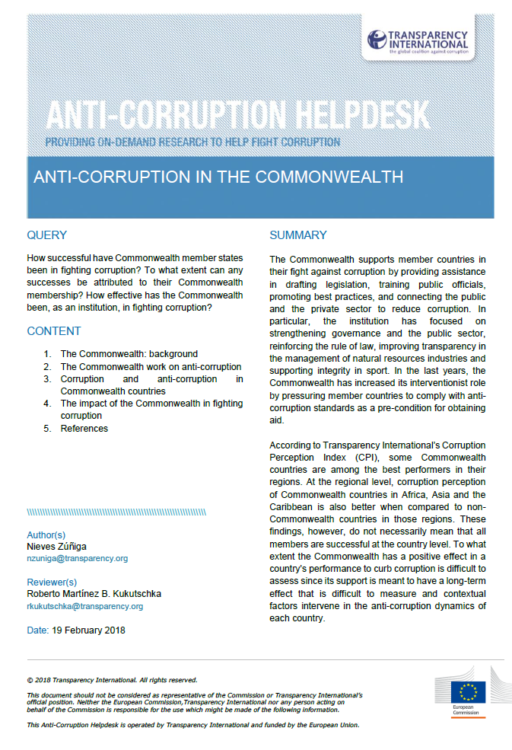 Download PDF
Experts working on this topic
Mihaylo Milovanovitch
Roberto Kukutschka
Mihaly Fazekas
Related by Country
Literature review: Accountability and corruption
Initiatives de lutte contre la corruption dans le secteur judiciare en Afrique francophone
Declaraciones patrimoniales y de intereses: mecanismos de supervisión, divulgación y sanciones
Related by Topic
EXAMPLES OF NATIONAL ANTI-CORRUPTION STRATEGIES
Impact of international asset recovery and anti-money laundering efforts on poverty reduction and po
Good practice in donors' anti-corruption strategies