Corruption and anti-corruption efforts in Uzbekistan

This Anti-Corruption Helpdesk brief was produced in response to a query from a U4 Partner Agency. The U4 Helpdesk is operated by Transparency International in collaboration with the U4 Anti-Corruption Resource Centre based at the Chr. Michelsen Institute.
Query
Please produce a corruption country profile of Uzbekistan with a focus on the health and education sector, and maternal and perinatal health in particular.

Summary
Since coming to power in 2016, President Mirziyoyev has taken steps to liberalise the Uzbek economy and denounce corruption. Among other measures, a new Anti-Corruption Agency was established in 2020 and, under his administration, criminal charges have been filed against numerous public officials for embezzlement, bribes or abuse of power.
However, Uzbekistan remains an authoritarian state characterised by high levels of corruption, nepotism and abuse of power, including at the highest levels of government and in such sectors as healthcare and education. In recent years, political opponents, civil society figures and journalists have faced lawsuits, prosecution and even torture for reporting on corruption offences involving the president's inner circle and close allies.

Main points
Under the presidency of Shavkat Mirziyoyev, Uzbekistan has embarked on a reformist path, seeking to transform its political and economic governance model from a Soviet-style top-down system towards an open-market economy.
Yet, despite some progress in political and economic reforms, Uzbekistan remains an authoritarian state characterised by high levels of corruption among senior officials.
According to public opinion data gathered a by governmental research centre and the assessment of the Uzbek parliament and state anti-corruption agency, healthcare and education are among the most corrupt sectors in the country.
Important institutions, such as the parliament, judiciary, prosecution and law enforcement are subject to undue influence by the president and other officials in the executive branch. There is limited due process within the judicial system, and law enforcement authorities arrest civic activists, journalists or political opponents on flimsy pretexts and dubious charges.
Uzbekistan's civic space is considered closed with human rights defenders, investigative journalists and bloggers being prosecuted and sometimes tortured for publishing critical articles exposing entrenched corruption in the top echelons of the government.
Contents
Introduction

Extent of corruption
Forms of corruption

Grand corruption
Nepotism and clientelism
Administrative corruption

Main sectors affected by corruption

Healthcare
Education
Justice
Business

Legal and institutional framework
Other stakeholders

Civil society
Media

References
Authors
Lasha Gogidze, [email protected]

Reviewers
Matthew Jenkins, Transparency International
Daniel Sejerøe Hausenkamph, U4
Date
31/10/2023
Tags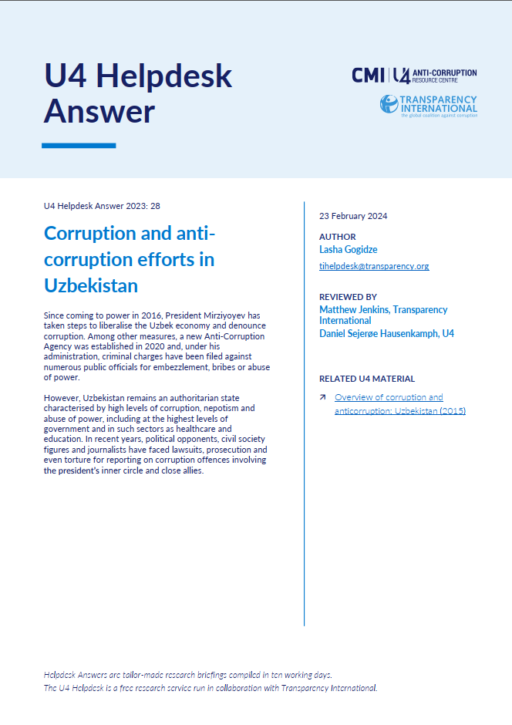 Download PDF
Experts working on this topic
Alvaro Ceballos
Tanya Wyatt
Shqipe Neziri Vela
Related by Country
Overview of corruption and anti-corruption: Uzbekistan
Overview of corruption and anti-corruption in Central Asia
Related by Topic
ANÁLISIS DE LA CORRUPCIÓN Y LA LUCHA CONTRA ESTE FENÓMENO EN PARAGUAY
Enforcement of judicial codes of conduct
Corruption in investor-state arbitration