Corruption and economic crime

This Anti-Corruption Helpdesk brief was produced in response to a query from one of Transparency International's national chapters. The Anti-Corruption Helpdesk is operated by Transparency International and funded by the European Union. 
Query
Please provide an overview of the common characteristics between corruption and economic crime. In your overview, please include a discussion on what is meant by "modern forms of corruption"

Summary
Historically, corruption has been seen as an enabler of some types of economic crime and organised criminality, for example through payment of bribes to law enforcement agencies or undue influence in decision-making. However, modern forms of corruption – which the paper interprets as usually transnational in nature – are even more intertwined with economic crime. Both sets of crimes share similar drivers, rely on similar mechanisms to move and launder illicit funds, and deprive societies of much needed financial resources, threatening not only economic and social stability of other countries across the globe, but also the rule of law and democracy.
Due to these common characteristics, certain instruments to combat corruption and economic crime could be productively brought into closer alignment. For instance, a public register on beneficial ownership may prevent the use of shell companies to launder proceeds from both corruption and economic crime. Moreover, international cooperation is required in the investigation and prosecution of both corruption and economic crime schemes, as well as for asset recovery purposes. Transparency in political funding may also ensure that political and electoral campaigns are not tainted by proceeds of corruption and economic crime, and could help prevent capture of state institutions.
Contents
Introduction
Common characteristics between corruption and economic crime
Conclusion
References
Main points
This paper interprets "modern forms of corruption" as transnational in nature, and potentially involving the use of technology to illicitly acquire, move and dispose of assets.
It is common for criminals engaged in corruption and economic crime to abuse shell companies as conduits for their illicit activities. There is currently a petition with more than 700 signatories calling for a global standard on public beneficial ownership.
Evidence shows that international schemes increasingly involve networks of professional individuals and entities who enable both corruption and economic crime. Dirty money from corruption and economic crime often finds its way into politics. Hence, ensuring transparency in political funding could prevent criminals exercising influence over politics
Authors
Jorum Duri, [email protected]
Reviewers
Maira Martini and Matthew Jenkins, Transparency International
Date
29/03/2021
Tags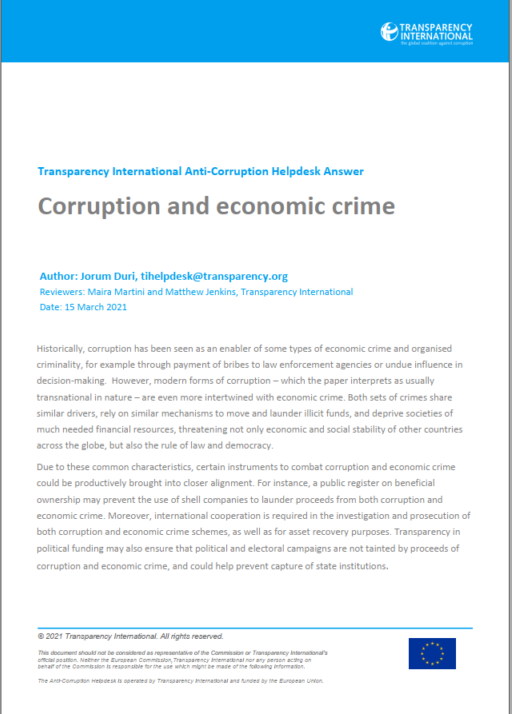 Download PDF
Experts working on this topic
Maria Krambia Kapardis
Alvaro Ceballos
Morten Koch Andersen
Related by Topic
GOOD PRACTICE IN WITNESS PROTECTION LEGISLATION
Anti-corruption clauses in constitutions
Civil society budget monitoring