The impact of grey listing by the Financial Action Task Force (FATF)

This Anti-Corruption Helpdesk brief was produced in response to a query from a U4 Partner Agency. The U4 Helpdesk is operated by Transparency International in collaboration with the U4 Anti-Corruption Resource Centre based at the Chr. Michelsen Institute.
Query
What is the potential impact of inclusion on the FATF grey list? What are the economic consequences and the impact on the financial sector? What are the consequences for the authorities concerned?
Grey listing by the FATF has been shown to drive successful anti-money laundering reforms as countries commit to resolve the identified strategic deficiencies in their regimes, as set out in an action plan. Countries that have been placed on the grey list are not subject to any official sanctions by the FATF. Nonetheless, being publicly identified on the grey list can still have negative economic and reputational consequences, which may impact the financial sector and international financing and aid.
Contents
Background
Next steps for grey listed countries
Implications for money laundering reforms
Other ramifications

The economy
The financial sector
International aid and financing
The European Union's policy on high-risk third countries and the United Kingdom's list of high-risk third countries
The black list

References

The French version of this Helpdesk Answer can be found here.
Authors
Caitlin Maslen (TI)
Reviewers
Rosa Loureiro-Revilla (U4)
Jamie Bergin (TI)
Date
01/11/2023
Tags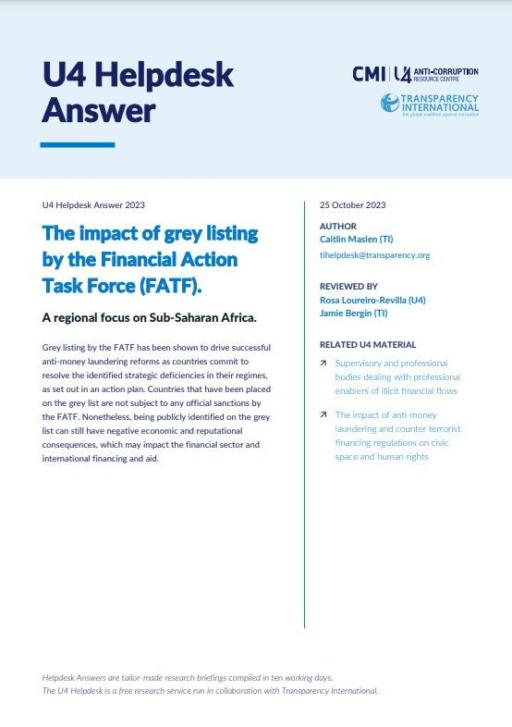 Download PDF
Experts working on this topic
Fabiano Angelico
Elda Fim
Leslie Holmes
Related by Topic
The uses and impact of beneficial ownership information
Evidence of illegal cross-border flows of funds, goods and services in South Asia and their impact o
Correlation between corruption and inequality