Overview of corruption and anti-corruption in Central Asia

This Anti-Corruption Helpdesk brief was produced in response to a query from one of Transparency International's national chapters. The Anti-Corruption Helpdesk is operated by Transparency International and funded by the European Union. 
Query
Please provide an overview of corruption and anti-corruption in the Central Asian countries of Kazakhstan, Kyrgyzstan, Tajikistan, Turkmenistan and Uzbekistan, and consider the role of corruption in undermining effective and equitable responses to COVID-19.

Summary
The Central Asian nations of Kazakhstan, Kyrgyzstan, Tajikistan, Turkmenistan and Uzbekistan have each taken a different path since the collapse of the Soviet Union. Nevertheless, all have struggled in varying degrees to transition from authoritarian rule to democracy, and corruption permeates most areas of politics and government. The consequences of these modes of autocratic governance became obvious in 2020 as widespread corruption hindered the response of countries in the region to the COVID-19 pandemic. Health systems are struggling to cope, ever tighter restrictions have been imposed on freedom of speech and access to information, and there is an alarming opacity in the allocation of funds dedicated to the response effort.

Contents
Background
Regional Framework
Kazakhstan
Kyrgyzstan
Tajikistan
Turkmenistan
Uzbekistan
Impact of corruption on COVID-19 response in Central Asia
References
Main points
Corruption is rampant throughout Central Asia. The five countries average 26.6 out of 100 on the 2019 Corruption Perceptions Index, far below the global average of 43.
Despite widespread anti-corruption rhetoric by political leaders, in practice nominal anti-corruption campaigns often target opposition figures and government critics.
While corruption has hampered Central Asian countries' response to COVID-19, governments across the region have used the pandemic as a pretext to clamp down on political dissent.
Authors
Krista Lee-Jones, [email protected]
Reviewers:
Matthew Jenkins and Altynai Myrzabekova, Transparency International

Date
28/01/2021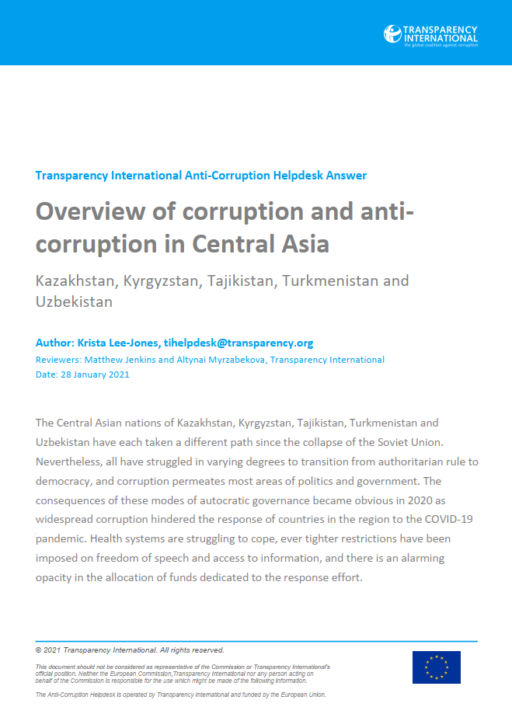 Download PDF
Experts working on this topic
Elda Fim
Monty Silley
Julio Bacio Terracino
Related by Country
Corruption and anti-corruption efforts in Uzbekistan
Overview of Corruption and Anti-Corruption in Kyrgyzstan
Kyrgyzstan: Overview of corruption and anti-corruption
Related by Topic
LE RÔLE DE LA PASSATION DE MARCHÉS PUBLICS EN LIGNE DANS LA LUTTE CONTRE LA CORRUPTION
Alternative pathways to address impunity in grand corruption cases
The linkages between corruption and violations of competition laws