Corruption risks in tax administration, external audits and national statistics

This Anti-Corruption Helpdesk brief was produced in response to a query from a U4 Partner Agency. The U4 Helpdesk is operated by Transparency International in collaboration with the U4 Anti-Corruption Resource Centre based at the Chr. Michelsen Institute.
Query
What are the areas within tax administration, external audits and national statistics with the greatest risk of corrupt behaviour?
Summary
There are a number of approaches to identify corruption risks in different settings. This Helpdesk Answer adopts a value chain analysis, which conceives of a sector in terms of the processes required to produce and deliver public goods and services. It then considers the value chain in the sectors of interest at three levels: policymaking, organisational resources and client interface. Corruption risks at the policymaking level include political corruption, undue influence by private firms and interference by other arms of the state. At the level of organisational resources, possible risks include fraud, embezzlement and the development of patronage networks. Finally, at the client interface, the most common risks relate to bribery and extortion.
Main points
Value chain analysis is a useful way to map corruption risks at sector level (Campos and Pradhan 2007).
Risks can be characterised according to whether they occur at the stages of policymaking, organisational resources or client interface along the value chain.
To gain meaningful insights, it is necessary to go beyond high-level mappings of corruption risks and conduct bespoke appraisals of different sectoral value chains.
Contents
Corruption risk assessments
Revenue administration
External audits
National statistics
References
Caveat
This Helpdesk Answer does not attempt to provide a comprehensive list of all potential corruption risks in the sectors of interest. Instead, it seeks to identify and describe predictable risks based on the known general types of corruption.
The exact drivers, forms and modus operandi of corruption depends on a range of variables, including country context, sector, institution and working practices. Specific risks may only be identified as part of a thorough corruption risk assessment in the area of interest. The actual application of any given corruption risk assessment framework to these sectors in the Cambodian context would require extensive in-country research and, as such, goes beyond the scope of this Helpdesk Answer.
Authors
Reviewer:
Roberto Martinez B. Kukutschka
Date
15/02/2019
Tags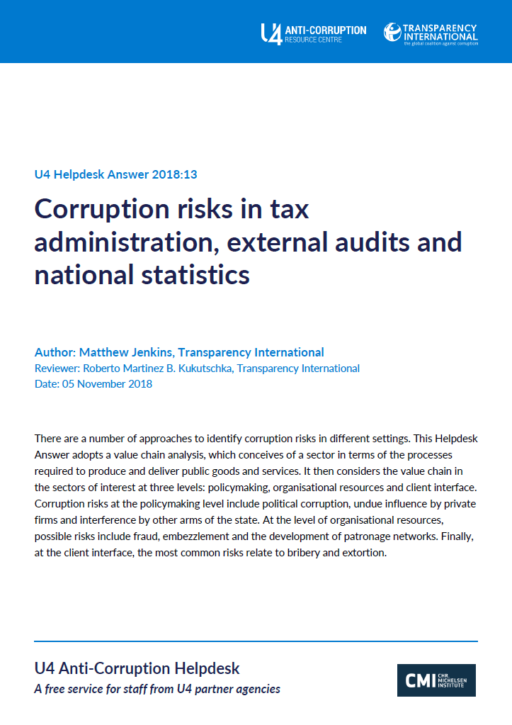 Download PDF
Experts working on this topic
Gedion Onyango
Florian Schatz
Leila Bicakcic
Related by Country
Codes of ethics for the police
Managing corruption challenges in humanitarian settings
Best practices in civilian oversight and whistleblower protection in the armed forces
Related by Topic
Corruption at the border
Public financial management reforms in developing and postconflict countries
Legislacion sobre contrataciones publicas y riesgos de corrupcion