Overview of corruption and anti corruption in Armenia, Azerbaijan, Belarus, Georgia, Moldova and Ukraine

This Anti-Corruption Helpdesk brief was produced in response to a query from a U4 Partner Agency. The U4 Helpdesk is operated by Transparency International in collaboration with the U4 Anti-Corruption Resource Centre based at the Chr. Michelsen Institute.
Query
Please provide an overview of corruption and anti-corruption in the Eastern Partnership countries.
Summary
In all of the Eastern Partnership countries, patronage networks wield substantial influence over state institutions. State capture has occurred in all countries, and none have fully obtained strong or independent integrity systems. However, while systemic corruption remains an issue, there are encouraging signs that some of the countries that suffer from the most severe issues are taking steps to tackle corruption. Ukraine and Armenia, in particular, are currently engaged in ambitious and comprehensive reform programmes. These changes happened as a result of strong public mobilisation against corruption. At the other end of the scale, there is little substantial progress and political will to tackle state capture in Azerbaijan, Belarus and Moldova. Georgia, which has for a long time been a positive example of a reformist state emerging from the former Soviet Union, is the best performer on most governance indicators, but it still has some significant issues to tackle.
Contents
Background and regional trends
Country profiles

Armenia
Azerbaijan
Belarus
Georgia
Moldova
Ukraine

References
Main points
State capture is an issue in all Eastern Partnership countries assessed in the profile and continues to be the primary impediment to successful democratic transformation.
State capture in these countries has geopolitical ramifications.
The various revolutions and civil uprisings that have engulfed most of the countries in question have historically had limited impact. However, the latest round of civil mass mobilisation has led to the fall of some corrupt leaders and has installed new leaderships that appear more enthusiastic about reform.
Authors
Mathias Bak, [email protected]
Reviewers:
Altynai Myrzabekova, Transparency International, Veronica Borysenko and Anastasiya Kozlovtseva, Transparency International Ukraine, Erekle Urushadze, Transparency International Georgia and Transparency International Armenia
Date
07/04/2020
Tags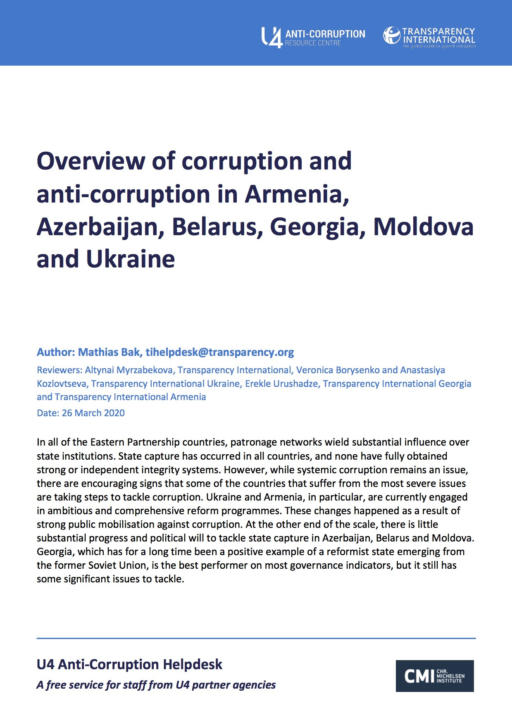 Download PDF