Responses to common challenges encountered when establishing internal whistleblowing mechanisms

This Anti-Corruption Helpdesk brief was produced in response to a query from a U4 Partner Agency. The U4 Helpdesk is operated by Transparency International in collaboration with the U4 Anti-Corruption Resource Centre based at the Chr. Michelsen Institute.
Query
Please provide an overview of solutions to common challenges when establishing whistleblowing mechanisms within an organisation, including evidence to support these.
Summary
Research into internal whistleblowing shows that an effective whistleblowing mechanism increases accountability and trust and uncovers misconduct and fraud in an organisation (Terracol 2022; Stubben and Welch 2020; UNODC 2015). Additionally, raising a concern through internal channels means that the issue is raised directly with those who are best placed to respond (Terracol 2022).
There are several common challenges that may inhibit the establishment of internal whistleblowing mechanisms which include a lack of internal understanding of whistleblowing, ineffective management and feedback by responsible members of staff on the reported case, and inadequate internal whistleblowing channels ( inaccessible, or not fit for purpose). Potential whistleblowers may also be deterred from coming forward and using the internal whistleblowing mechanism due to the potential threat of retaliation and/or breaches of their confidentiality or anonymity.
Fortunately, innovative solutions to these common issues have been proposed and provided by researchers, civil society organisations (CSOs) and the private sector. Training courses that focus on whistleblowing are being offered by external providers, digital software for whistleblowing reporting channels, and case management has been developed along with "speak up" awards which are increasingly given to staff. Evidence suggests that the comprehensive implementation of such solutions will result in a more effective internal whistleblower mechanism and consequently a more accountable workplace where staff are more willing to blow the whistle internally.
Contents
Background
Features of an effective internal whistleblowing mechanism
Common challenges and solutions

Incentivising potential whistleblowers
Inaccessible and/or too few whistleblowing channels
Ineffective management of the case
Retaliation against the whistleblower
Breaches of whistleblower confidentiality or anonymity

References
Authors
Caitlin Maslen (TI) [email protected]
Reviewers
Marie Terracol and Anoukh de Soysa (TI)
Guillaume Nicaise (U4)
Date
27/02/2023
Tags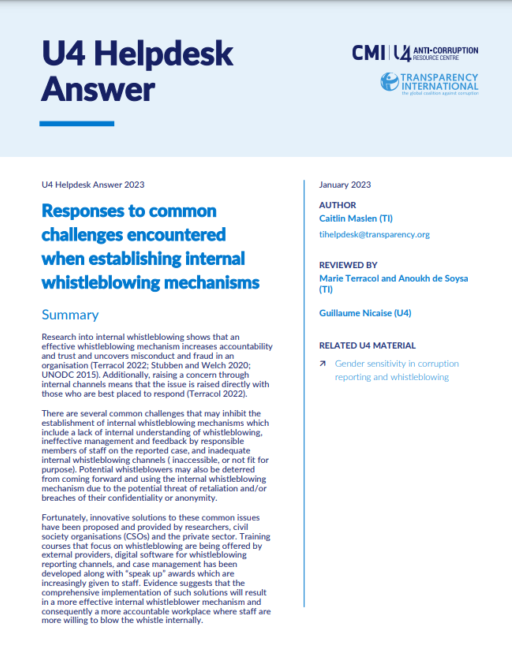 Download PDF
Experts working on this topic
Patrice Poitevin
AJ Brown
Gregory Michener
Related by Topic
Corruption in times of crisis
Best practices for whistleblowing in sport
Whistleblowing mechanisms in municipalities