Whistleblower protection at the United Nations

This Anti-Corruption Helpdesk brief was produced in response to a query from one of Transparency International's national chapters. The Anti-Corruption Helpdesk is operated by Transparency International and funded by the European Union. 
Query
Please provide an overview of research on whistleblower policies and protection against retaliation at the United Nations and recommendations for reform.
Summary
In recent years there have been several high-profile cases in the media of UN whistleblowers facing retaliation from their employer and fellow colleagues. These reports have claimed that staff who have made a disclosure then miss out on promotions, are denied renewal of employment contracts, are harassed by colleagues, have their protected whistleblower status retroactively revoked or are, on occasion, fired. Such incidents have been reported throughout the UN Secretariat, specialised agencies and other related offices, suggesting that this may be a systemic issue within the UN.
The literature points towards several causes of retaliation against whistleblowers at the UN. Firstly, the mechanisms for whistleblower disclosure and protection at the UN are particularly complex, with the secretariat and each specialised agency having different processes. This has been criticised by several sources as being a deterrent for whistleblowers and rendering them vulnerable if they do not follow the correct, albeit complicated, procedures for making disclosures. The jurisdiction that international organisations such as the UN operate under, and the culture within the UN specifically, is also identified as an issue. Staff are first and foremost international civil servants rather than that of a member state, and this can complicate matters for potential whistleblowers who may be concerned with compromising the organisation's reputation. Retaliation from senior staff and other colleagues has been reported and, when this retaliation is stated to the relevant oversight body, the number of cases approved for protection by these bodies has been notably low.
Recommendations have been put forward by several bodies and researchers on how to strengthen the system for whistleblower protection. These include improvements to the whistleblower protection policy and structural reforms within the UN and its justice system to ensure the international organisation is more effective in encouraging disclosures and protecting staff from retaliation. With these recommendations in mind, there is potential for the UN to create a working environment where staff are confident they can report misconduct without concerns for implications to their careers.
Main points
Given the size and complexity of the UN, it has relatively few reports of internal misconduct and fraud.
Retaliation has been identified by researchers as one of the greatest deterrents for staff at the UN when it comes to reporting misconduct.
The research points towards the jurisdiction that the UN works under, fragmented and unclear whistleblower policies, retaliation by staff, a lack of access to independent arbitration, and a "top down" culture at the UN for issues facing potential whistleblowers
Recommendations for improvement include strengthening internal whistleblower protection policies and improving the workings of the oversight offices responsible for whistleblower protection at the UN.
Contents
Introduction
Framework for whistleblowing at the UN
Problems facing UN whistleblowers
Case studies
Recommendations from the literature
Conclusion
References
Authors
Caitlin Maslen, [email protected]
Reviewers
Matthew Jenkins and Marie Terracol, Transparency International, Samantha Feinstein and Tom Devine, Government Accountability Project
Date
27/01/2022
Tags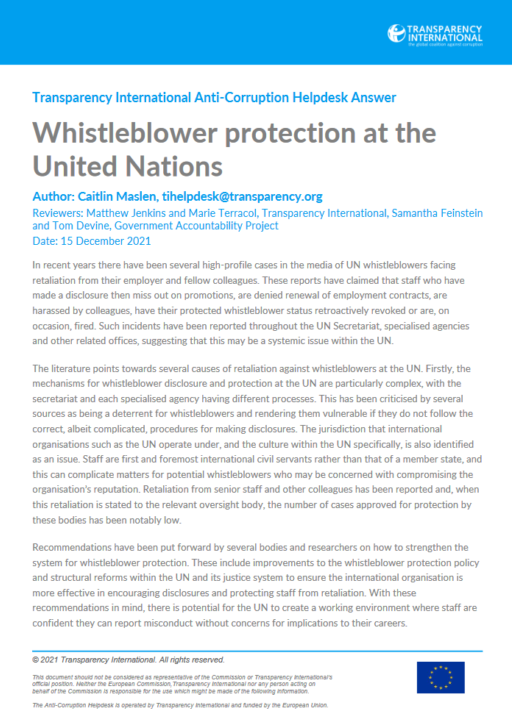 Download PDF
Experts working on this topic
Costantino Grasso
Patty Zakaria
Leila Bicakcic
Related by Country
Grand corruption and climate change policies: Overview of grand corruption evidence in energy transition, biodiversity loss and climate finance
Examples of anti-corruption clauses in cooperation agreements
Corruption risks and mitigation approaches in climate finance
Related by Topic
International Experiences With Legislative Footprint
COMPARATIVE ANALYSIS OF THE UNCAC AND THE OAS CONVENTION
Best Practice and Challenges for Whistleblowing Systems in Multinational Companies