A Report on Observing Integrity & Transparency of Central Elections Commission (CEC) Performance During Municipal Elections 2012
Description
As part of AMAN's commitment –as a local oversight body- to observe municipal elections of 2012, it observed elections at 57 centers in provinces that had elections held according to a sample represented polling stations based on geographical distribution and volume of population. The sample included provinces of Jenin, Tubas, Nablus, Tulkarm, Qalqilya, Salfit, Jericho and Jordan Valley, Ramallah and el-Bireh, Bethlehem, Hebron and Jerusalem, where observers were present right from opening ballot boxes till the end of sorting and results declaration.
AMAN trained observers to raise awareness on elections law 10/2005 and its amendments, the election system and building capacity about observation in terms of tools, procedures and rights of observers on polling day, all of which was intended to provide them with skills necessary to fill the opinion questionnaire developed by AMAN for citizens and observers in order to collate and analyze data of integrity and transparency of workers at ballot centers, to measure CEC performance on poll day as per observations and direct experience of observers themselves on one hand, and experience of voters on the other hand. 
Authors
The Coalition for Accountability and Integrity -AMAN
Date
01/11/2012
Tags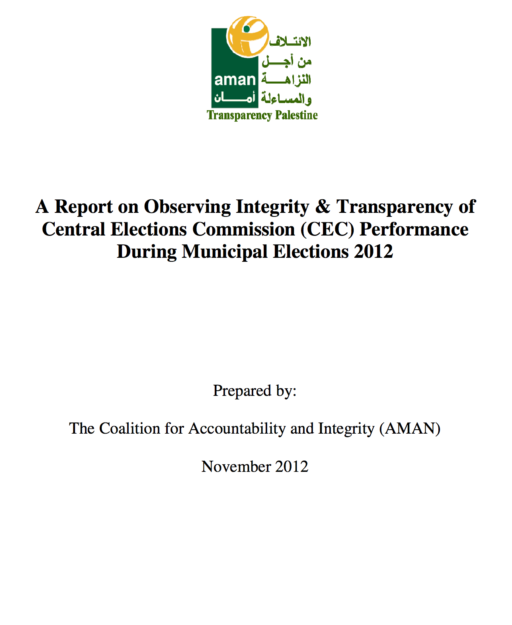 Download PDF
Experts working on this topic
Susan Rose Ackerman
Alberto Precht
Francesco Clementucci
Related research
Tools to reduce private sector engagement in grand corruption during the award of public contracts,
Political Party Accountability: Intra-party democracy, funding, and minimum standards for candidates
What can donors do to fight petty corruption in recipient countries?
BEST PRACTICES FOR OMBUDSMEN
Corruption in times of crisis