Doors wide open: corruption and real estate in four key markets
Description
The real estate market has long provided a way for individuals to secretly launder or invest stolen money and other illicitly gained funds. Not only do expensive apartments in New York, London or Paris raise the social status of their owners and enhance their luxurious lifestyles, but they are also an easy and convenient place to hide hundreds of millions of dollars from criminal investigators, tax authorities or others tracking criminal behaviour and the proceeds of crime.

In many such cases, property is purchased through anonymous shell companies or trusts without undergoing proper due diligence by the professionals involved in the deal. The ease with which such anonymous companies or trusts can acquire property and launder money is directly related to the insufficient rules and enforcement practices in attractive markets. The countries analysed in this study – Australia, Canada, the United Kingdom and the United States – have committed in different forums, such as through the FATF and the Group of 20 (G20), to do more to prevent and curb money laundering and terrorist-financing, including by regulating gatekeepers, such as real estate agents, lawyers and accountants, who may act as facilitators in transactions that can enable money laundering.

This report identifies the main problems related to real estate and money laundering in these four countries and finds that, despite international commitments, current rules and practices are inadequate to mitigate the risks and detect money laundering in the real estate sector.
Authors
Maíra Martini
Project coordinator
Maggie Murphy
Acknowledgements
We thank Heather Lowe, Christoph Trautvetter and Jon Vrushi for their case studies. In addition, we thank Ben Cowdock, Rebecca Dobson, Gill Donnelly, Chido Dunn, Steve Goodrich, Finn Heinrich, Max Heywood, Anne Koch, Denis Meunier, Adam Ross, Shruti Shah and Mark Zirnsak.
Date
29/03/2017
Tags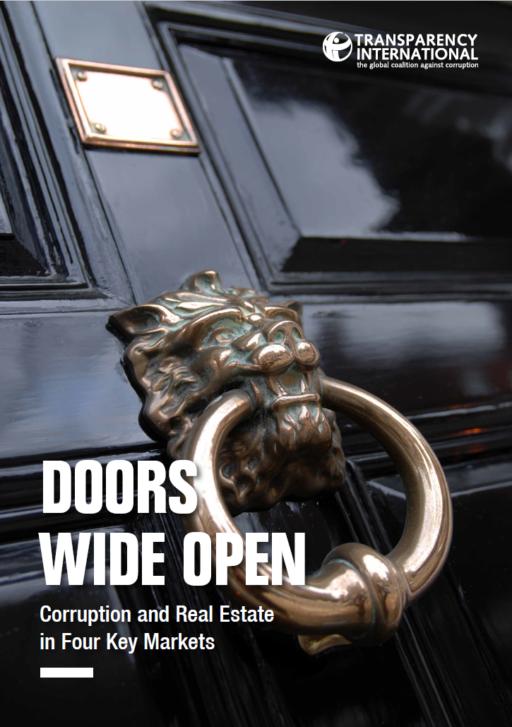 Download PDF
Experts working on this topic
Anne Scheltema Beduin
Tanya Wyatt
Tosin Osasona
Related research
Good practices in preventing corruption in planing and zoning at the local level
How could anti-corruption interventions tackling global corruption benefit the UK?
The Gambia: overview of corruption and anti-corruption
Overview of corruption and anti-corruption in the Gambia
Corruption risks and mitigation strategies in Small and Medium Size Enterprise lending