Grand Corruption and the SDGs - Selling the country's future: the island sales scheme in the Maldives
Description
Protecting the natural beauty and environment of the Maldives is central to the implementation of its sustainable development agenda. As the bedrock of the tourism industry, the country's ecosystem is both a source of economic prosperity and an invaluable resource that must be protected in its own right.
Grand corruption in the Maldives has directly put this resource at risk.The island sales scheme, instigated by high-level officials including a former president, led to 50 islands and submerged coral lagoons being leased out for largely unsustainable private developments in 2014 and 2015.
The US$ 80 million lost to corruption in this scandal represents a large proportion of what needs to be spent on environmental protection in the Maldives. The rapid pace of tourist development, exacerbated by corrupt practices, has also rapidly exceeded what is sustainable for the natural environment, threatening biodiversity under water and on land.
In numbers:
50 islands and submerged coral lagoons leased out for private developments in 2014 and 2015 alone compared to just over 100 in the four previous decades.
US$ 80 million lost to corruption according to a 2016 report by the Maldives Auditor-General, equivalent to two-thirds of the budget set aside in2020 for environmental protection.
85 marine and land species native to the Maldives which are classified as critically endangered, endangered or vulnerable on the IUCN Red List
Authors
Thomas Shipley
Reviewer:
Matthew Jenkins

Date
08/01/2020
Tags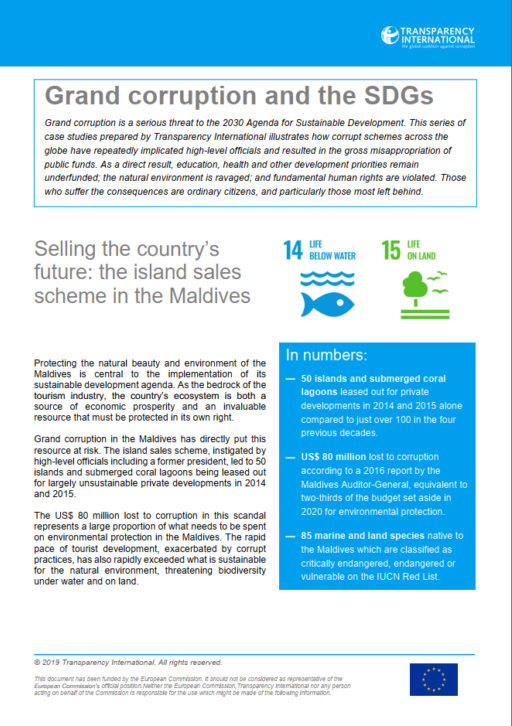 Download PDF
Experts working on this topic
Akaash Maharaj
Alma Sedlar
Ortrun Merkle
Related research
State Capture: An overview
Successful anti-corruption reforms
Tendances en matière de lois anti-corruption
Political finance oversight: Key institutions and mechanisms in sub-Saharan Africa
Literature review of corruption and anti-corruption in Palestine