Nigeria: Progress Towards Sustainable Development Goal 16
Description
The Sustainable Development Goals (SDGs) parallel report offers an independent review of the government-led 'National Voluntary Review' (NVR) SDG process in Nigeria. To the occasion of the United Nations High-Level Political Forum (HLPF) meeting in New York in July 2017, this assessment attempts to provide an objective account of the progress made within the 2030 Agenda for Sustainable Development in Nigeria. The report focuses mainly on the anti-corruption agenda, in particular on SDG 16. More specifically, targets 16.4 (illicit financial and arms flows), 16.5 (reduce bribery and other forms of corruption) and 16.10 (access to information) are analysed in depth.

This research is based on 175 indicators explicitly developed as part of the global Transparency International project. Secondary data has been collected from publicly available sources and compiled into a report by Civil Society Legislative Advocacy Centre (CISLAC), a leading Non- Governmental Organisation (NGO) in Nigeria and national contact for Transparency International Nigeria.
Authors
Civil Society Legislative Advocacy Centre
Date
31/10/2017
Tags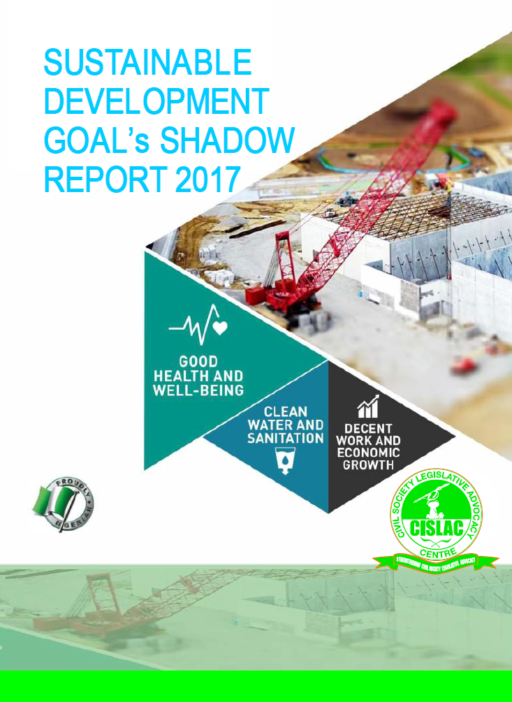 Download PDF
Experts working on this topic
Paul Dominique-Correa
Daban Sabir
Riccardo Pelizzo
Related research
Influencing governments on anti-corruption using non-aid means
Professional enablers of economic crime during crises
Overview of corruption and anti-corruption in Liberia
Literature review on corruption in fragile states
What can donors do to fight petty corruption in recipient countries?