Portugal: Progress Towards Sustainable Development Goal 16
Description
This Sustainable Development Goals (SDGs) parallel report offers an independent review of the government-led 'National Voluntary Review' (NVR) SDG process in Portugal. Produced for the occasion of the United Nations High-Level Political Forum (HLPF) meeting in New York in July 2017, this assessment attempts to provide an objective account of the progress made within the 2030 Agenda for Sustainable Development in Afghanistan. The report focuses mainly on the anti-corruption agenda, in particular on SDG 16. More specifically, targets 16.4 (illicit financial and arms flows), 16.5 (reduce bribery and other forms of corruption) and 16.10 (access to information) are analysed in depth.
This research is based on 175 indicators explicitly developed as part of the global Transparency International project.
Summary
Portugal's contribution to the SDGs has been mainly based on an external policy perspective. It is its overseas development agency that is taking the lead on this process, proving that the government regards the SDG mainly as a developing world issue to which Portugal can contribute with expertise and resources. However, Portugal still has a long way to go in its own good governance and fight against corruption. Shortcomings in this field have consequences not only for its citizens and institutions, but also negative externalities to developing countries and to its own external policy.
On July 18th 2017, the Portuguese government presented its implementation report to the High-Level Political Forum on the SDGs at the United Nations Headquarters. The document focused solely on SDGs Goals 1, 2, 3, 5, 9, 14 and 17, as these were the selected ones for the 2017 Voluntary Reviews. Anti-corruption has not received sufficient attention in the national implementation plan.

While it is true, as the government highlights, that the country has signed and ratified the main international anti-corruption instruments and that – from a legal point of view – it presents an overall satisfactory performance, the translation into practice has been ignored in the implementation report. However, there is a very significant and worrying gap between law and practice.
Transparency International Portugal has, therefore, taken the opportunity to provide an independent account of the Portuguese government's progress towards the specific SDG 16 targets on good governance and transparency (16.4, 16.5 and 16.10), which were only briefly touched upon on the implementation report.

Findings
SDG Target 16.4: By 2030 significantly reduce illicit financial and arms flows, strengthen recovery and return of stolen assets, and combat all forms of organized crime
While Portugal's legal framework conforms with international treaties, enforcement lags. Public policies aimed at attracting investment are in tension with those which would strictly apply anti-money laundering (AML) provisions, and lack of prevention undermines AML efforts. Moreover, as of September 2017, Portugal did not have in place a beneficial owner register. The creation of a public register is expected in the coming months due to European Union obligations, but it is not clear which will data be available or in which format it will be provided. An asset recovery mechanism is in place, but to be truly effective it would require better regulation and more widespread implementation.
SDG Target 16.5: substantially reduce corruption and bribery in all its forms
There is a gap between the progressively positive performance of the judiciary and the apparent lack of political will on the side of the executive and the legislative. For the past three years, Portugal witnessed an increase in the number of investigations and prosecutions relating to corruption at the highest political, administrative and business levels. These investigations indicate that while the judiciary is now taking some concrete steps, grand corruption had been largely overlooked for the past decades. Nevertheless, it is worth underlining that none of the major cases has yet reached trial. Portugal lacks a comprehensive and holistic action plan against corruption and recent legislative changes derive from international obligations.
Key concerns relate to insufficient transparency and integrity in political and public institutions, political financing and lobbying, both at the de jure and de facto levels. Whistleblowing protection is another key component in the fight against corruption which has been completely disregarded by Portuguese authorities, since there is no dedicated law for whistleblowers. Public procurement shows an overall positive legal framework. However, the existence of loopholes and the abuse of exceptional cases, namely sole-sourcing, makes this an area with high risks of corruption, trading in influence, and collusion.
SDG Target 16.10: ensure public access to information and protect fundamental freedoms
Portugal is a free and democratic country that ensures constitutional protection of fundamental freedoms. Journalists, political activists and civil society organizations can act in full freedom. However, criminal laws against defamation may discourage those that are willing to speak out against abuses. Access of information is also guaranteed, but public institutions remain passive in their information disclosure.
Authors
Susana Coroado
Transparência e Integridade, Associação Cívica / Transparency International Portugal
Date
31/10/2017
Tags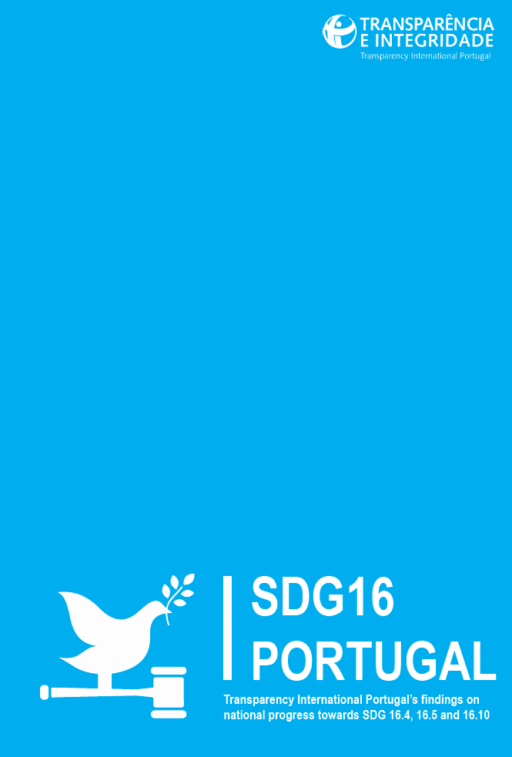 Download PDF
Experts working on this topic
Florian Schatz
Costantino Grasso
Marie-Ange Kalenga
Related research
How could anti-corruption interventions tackling global corruption benefit the UK?
Literature review on corruption in fragile states
Combating illicit financial flows: The role of the international community
Community monitoring of humanitarian aid and service delivery
Review of donor disclosure policies of corruption cases