Shadow report on the implementation of Sustainable Development Goal 16 in the Americas
Description
Together with seven national chapters (Argentina, Brazil, Chile, Costa Rica, El Salvador, Honduras and Peru) Transparency International prepared independent reports that allow for a different vision from that of the national governments regarding what the challenges are that we must take on in order to achieve the targets that SDG 16 proposes.

The report focuses mainly on the anti-corruption agenda, specifically targets 16.4 (illicit financial and arms flows), 16.5 (reduce bribery and other forms of corruption) and 16.10 (access to information). This research is based on 175 indicators explicitly developed as part of the global Transparency International project.
The results can be seen in this report and are owed to the effort of the civil society organizations that have assumed responsibility for the success of the 2030 Agenda. They recognize that this shared responsibility applies to all social actors and that their actions, coordination and synergies can contribute to the success of the targets that we have set, as a society, for the world of tomorrow that we seek to build.
For more information on this project, visit: https://www.ods16.com/

Authors
Michel Figueroa Mardones, Coordinator and Researcher.
Christopher O''Kuinghttons Lêrou, Editor.
Tania Tabilo Morales, Researcher.
This report enjoyed the collaboration of
Poder Ciudadano, Argentinian Chapter of Transparency International.
Transparency International Brazil, Brazilian Chapter (in construction) of Transparency International.
Chile Transparente, Chilean Chapter of Transparency International.
Asociación Costa Rica Integra, National Contact of Transparency International.
Fundación Nacional para el Desarrollo, Salvadorian Chapter of Transparency International.
Acción Ciudadana, Guatemalan Chapter of Transparency International.
Asociación para una Sociedad más Justa, Honduran Chapter of Transparency International.
Pro Ética, Peruvian Chapter of Transparency International.
Date
31/01/2018
Tags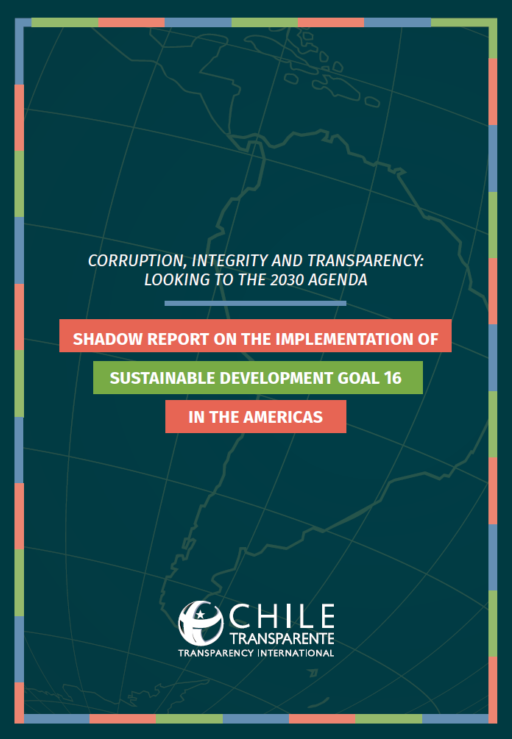 Download PDF
Experts working on this topic
Robert Gillanders
Leslie Holmes
Riccardo Pelizzo
Related research
MECANISMES DE PLAINTES A L'ECHELLE LOCALE : BONNES PRATIQUES
Review of donor disclosure policies of corruption cases
What can donors do to fight petty corruption in recipient countries?
Fiduciary safeguards for minimising corruption risks
National strategies for advancing good governance in Africa