Anti-corruption and transparency provisions in trade agreements

This Anti-Corruption Helpdesk brief was produced in response to a query from one of Transparency International's national chapters. The Anti-Corruption Helpdesk is operated by Transparency International and funded by the European Union. 
Query
What examples are there of anti-corruption, transparency or related provisions being included in trade agreements, and how successful have they been?
Content
Background
Transparency and anti-corruption in the WTO system
Transparency and anti-corruption in regional trade agreements
Enforcement mechanisms for anti-corruption provisions in trade agreements
Annex 1: Transparency International recommendations on anti-corruption in trade agreements
Annex 2: Acronyms
References
Summary
Despite being built on the underlying principles of transparency and non-discrimination, the global trade system overseen by the WTO regime has limited purview over so-called "deep provisions" in trade agreements, such as governance issues. 
In the absence of measures at WTO level to improve transparency and reduce bribery in international trade, the U.S. has pioneered the approach of embedding anti-corruption and transparency provisions into its bilateral trade agreements over the last 15 years.
There is now some consensus around best practice anti-corruption and transparency provisions for inclusion in trade deals, such as explicit references to international anti-corruption conventions, commitments to criminalise active and passive bribery, non-criminal sanctions for firms where they are not subject to criminal liability, and whistleblower protection. 
While headway has been made on mainstreaming anti-corruption principles into trade agreements, the effectiveness of such anti-corruption provisions remains open to question. Especially in regional trade agreements lacking an established mechanism such as the WTO's Dispute Settlement Body, implementation and enforcement of a state's anti-corruption obligations relies on robust measures being taken at national level.
Nonetheless, evidence suggests that there is a strong business case for the inclusion of anti-corruption and transparency provisions in trade agreements. Moreover, recent scholarship even contends that of all the instruments available to external actors to curb corruption in their development and trading partners, free trade agreements may be one of the most effective (Mungiu-Pippidi et al 2018).
Authors
Matthew Jenkins, Transparency International,
[email protected]
Date
26/07/2018
Tags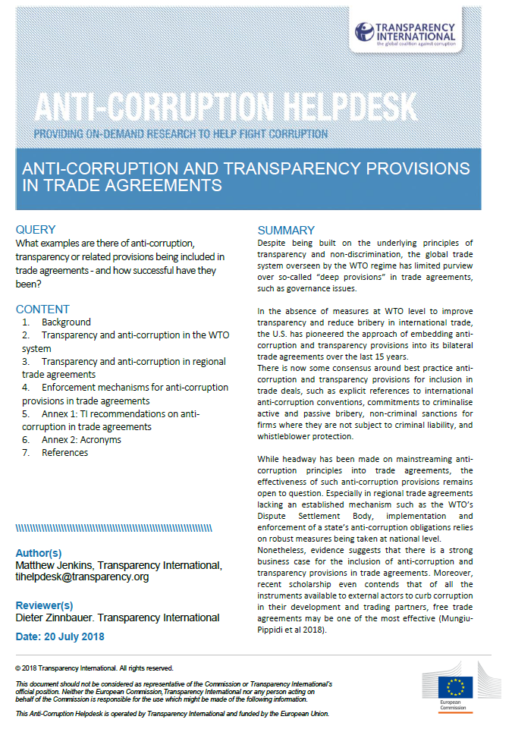 Download PDF
Experts working on this topic
Roberto Kukutschka
John Sellar
Alma Sedlar
Related by Country
Building on social movements to achieve systemic change
Regulating nepotism: approaches and best practices
Colombia: Overview of corruption and anti-corruption
Related by Topic
Transparency of State-owned enterprises
Best practices in tax amnesty and asset repatriation programmes
Corruption risks and mitigation approaches in climate risk insurance