Money Laundering and Terrorist Financing risks in Fiji

This Anti-Corruption Helpdesk brief was produced in response to a query from a U4 Partner Agency. The U4 Helpdesk is operated by Transparency International in collaboration with the U4 Anti-Corruption Resource Centre based at the Chr. Michelsen Institute.
Query
Please provide an overview of Fiji's exposure to money laundering.
Summary
This short answer provides a brief overview over Fiji's exposure to money laundering risks.
Contents
Nature of money laundering and terrorist financing risks
Prevalence of money laundering issues
Fiji's AML-TF regime and FATF status
EU's list of non-cooperative tax jurisdictions
Main Points
Fiji's financial and real estate sectors are vulnerable to money laundering of proceedings from narco-trafficking, corruption, and tax evasion. Every year, around 100 million Fijian dollars (approx.. US $46 million) are believed to be laundered via financial institutions.
While the Government of Fiji has taken some steps to improve the national AML-TF regime in recent years, there are still gaps to be addressed.
Fiji is currently listed on the EU blacklist of non-cooperative tax jurisdictions.
Authors
Mathias Bak, [email protected]
Reviewer(s)
Matthew Jenkins, Transparency International
Date
02/04/2020
Tags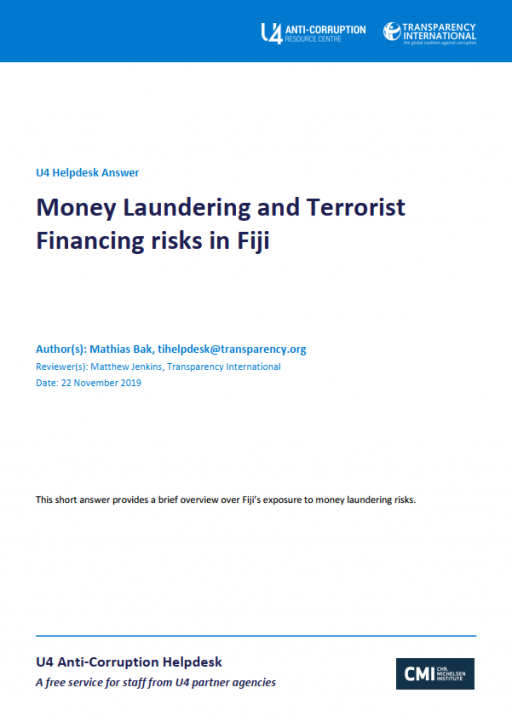 Download PDF
Experts working on this topic
Jesse Griffiths
Marc Tasse
Monty Silley
Related by Country
Best practices in business integrity support provided by investment promotion agencies
Overview of corruption and anti-corruption in Pacific Island countries
CORRUPTION AND ANTI-CORRUPTION IN FIJI
Related by Topic
Illicit financial flows in Ethiopia
Corruption risks and mitigation approaches in climate risk insurance
Illicit financial flows and inequality