Overview of corruption and anti-corruption in the Gambia

This Anti-Corruption Helpdesk brief was produced in response to a query from a U4 Partner Agency. The U4 Helpdesk is operated by Transparency International in collaboration with the U4 Anti-Corruption Resource Centre based at the Chr. Michelsen Institute.
Query
Please provide an overview of corruption and anti-corruption in the Gambia; in doing so, please also elaborate on relevant civil society stakeholders, the media and their role in the country. If possible, also provide an overview of how grand corruption has been addressed in the country's recent reforms and how these reforms may have addressed public office accountability.
Summary
When President Adama Barrow came into power in 2017, there was renewed hope for good governance in the Gambia. Though the new government is off to an encouraging start, it is yet to deliver on many of its promises on good governance. Notable reforms include increased judicial independence, and the establishment of transitional justice mechanisms, such as the Truth, Reconciliation and Reparations Commission as well as the Janneh Commission that investigated financial crimes committed by the former president Yahya Jammeh and his allies. The National Assembly recently passed the Access to Information Bill and has long drafted an anti-corruption bill but also rejected the draft Constitution in 2020. Civic space has also expanded since 2017, but there are signs of democratic backsliding. In some circumstances, activists have been met with relatively heavy-handed responses, and journalists have been mistreated.
Contents
1. Background
2. Extent of corruption
3. Nature of corruption challenges
4. Sectors vulnerable to corruption
a. Judiciary and the rule of law
b. Security sector
c. Private sector
d. Extractive industries
5. Legal and institutional anti-corruption framework
6. Other stakeholders
7. Conclusion
8. References
Main points
— The Gambia has a score of 37 out of 100 on Transparency International's 2020 Corruption Perceptions Index, which is a significant improvement from 2016 when it scored 26 out of 100 .
— The National Assembly recently passed the Access to Information bill, which is an important step towards more transparency in government. However, the National Assembly has not passed many other institutional and legal reforms required for political transformation, leaving the Gambia with a weak anti-corruption framework.
— Civic space has expanded since the change in government in 2017. However, civil liberties are yet to be fully consolidated and signs of democratic backsliding have begun to surface.
Authors
Mathias Bak, [email protected]
Reviewers
Saul Mullard (U4 Anti-Corruption Resource Centre)
Marr Nyang (Gambia Participates), and Jorum Duri (Transparency International)
Date
21/07/2021
Tags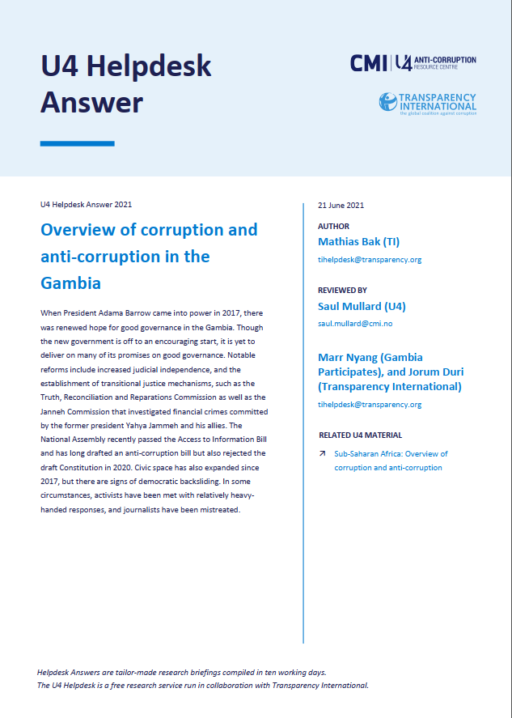 Download PDF
Experts working on this topic
Khachik Harutyunyan
Harry Patrinos
Patty Zakaria
Related by Country
The Gambia: overview of corruption and anti-corruption
Overview of countries' supreme audit institutions with surcharging powers
Related by Topic
Good practice in mitigating corruption risks in the extractives sector
Declaraciones patrimoniales y de intereses: mecanismos de supervisión, divulgación y sanciones
Réformes de lutte contre la corruption: ce qui fonctionne