The Gambia: overview of corruption and anti-corruption

This Anti-Corruption Helpdesk brief was produced in response to a query from one of Transparency International's national chapters. The Anti-Corruption Helpdesk is operated by Transparency International and funded by the European Union. 
Query
Please provide an overview of corruption and anti-corruption efforts in the Gambia.
Summary
The citizens of the Gambia, one of the smallest and most densely populated countries in Africa, managed to oust the autocratic regime of President Jammeh in the 2016 elections, after 22 years in power. This has ushered in a new administration amid encouraging signs that the opacity, repression and violation of basic rights that marked Jammeh's time in office are being edged out by a commitment to democratic norms, good governance and the rule of law. President Barrow has stated his intention to rid the country of pervasive corruption and a culture of impunity. Despite promising improvements in international governance indices, it remains too early to tell if the new government will succeed in its efforts to curb widespread corruption.

Contents
Overview
Corruption
Legal and institutional anti-corruption framework
References
Authors
Kaunain Rahman, [email protected]

Reviewers:
Samuel Kaninda and Matthew Jenkins, Transparency International
Date
29/01/2019
Tags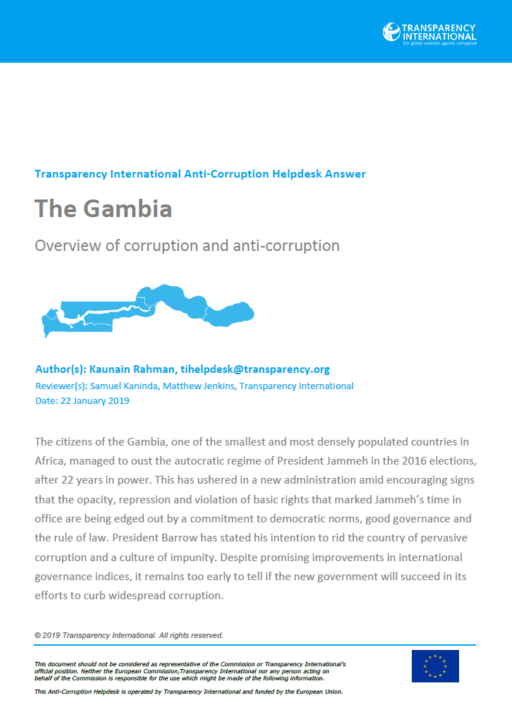 Download PDF
Experts working on this topic
Vistel Blardone Ganongo Bongo
Acar Muhittin
Matthew Jenkins
Related by Country
Overview of countries' supreme audit institutions with surcharging powers
Overview of corruption and anti-corruption in the Gambia
Related by Topic
Corruption in natural resources management in Mongolia
GOOD PRACTICE IN ACCESS TO INFORMATION LAWs
Financial intelligence units (FIUs): Effective institutional design, mandate and powers