Regulating Private Sector Corruption

This Anti-Corruption Helpdesk brief was produced in response to a query from one of Transparency International's national chapters. The Anti-Corruption Helpdesk is operated by Transparency International and funded by the European Union. 
Query
Please provide an update of the 2014 query on regulating private sector corruption. We are particularly interested in papers, research and resources covering countries outside the European Union, especially China and South Korea.
Content
 What is private-to-private corruption?
Types of private-to-private corruption
What is the impact of private-to-private corruption?
Issues to consider when regulating private-to-private corruption
Regulatory frameworks to combat private-to-private corruption
References
Summary
Private-to-private corruption has gained increased attention over the past few years, not least due to several high-profile corruption scandals. The Fédération Internationale de Football Association (FIFA) scandal over payments allegedly made to high-ranked FIFA officials to influence decisions concerning future World Cup sites and exclusive branding rights is one prominent example. 
A number of studies provides the empirical evidence that corruption is commonplace within the business community, finding that the perceived likelihood of private-to-private bribery is nearly as high as bribery of public officials across all sectors (Transparency International 2011; cf. Jenkins 2018). 
As a result of these well-publicised corporate corruption scandals, public expectations across the globe are reportedly converging around common standards of transparency and accountability (PricewaterhouseCoopers 2018). Indeed, PricewaterhouseCoopers (2018) identifies "a pronounced shift in the way the world looks at fraud and corruption" over the past few years with its 2018 Fraud Survey data reflecting a "deep-seated demand for accountability, from both the public and from regulators, across the private and public sectors". 
This demand for accountability has been reflected to some extent through an increased effort to criminalise private-to-private corruption in national legislation and through several self-regulatory commitments by the international business community.

Authors
Krista Lee-Jones, Transparency International, [email protected]   

Reviewer
Matthew Jenkins, Transparency International
Date
11/04/2018
Tags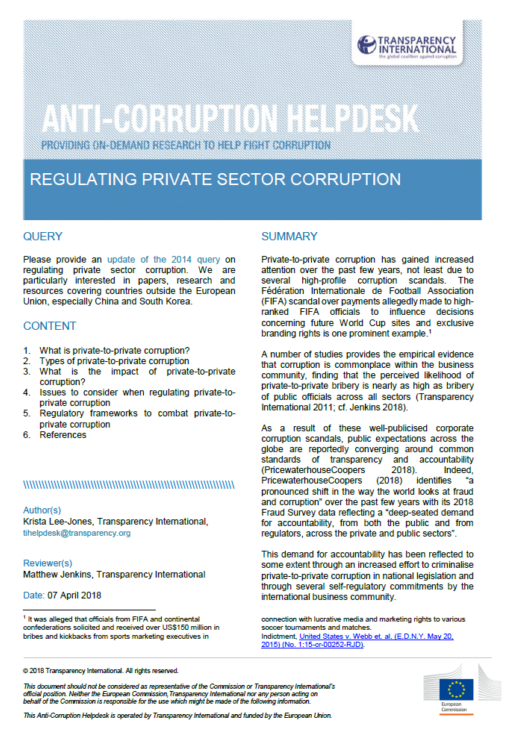 Download PDF
Experts working on this topic
Fabiano Angelico
Tilman Hoppe
Kerstin Leitner
Related by Country
Ineligibilities for elected office arising from criminal law decisions
The impact of Chinese investments on national procurement rules
Anti-corruption agencies in Europe
Related by Topic
Consecuencias de la Corrupcion en Terminos de Crecimiento y Desigualdad
Interagency coordination mechanisms: improving the effectiveness of national anti-corruption efforts
Corruption in justice and security