Successful approaches to tackle petty corruption

This Anti-Corruption Helpdesk brief was produced in response to a query from one of Transparency International's national chapters. The Anti-Corruption Helpdesk is operated by Transparency International and funded by the European Union. 
Query
Is there any paper or study that documents effective methods to counter petty corruption?

Summary
Petty bribery refers to small bribes paid by citizens to public officials to speed up bureaucratic processes or access public services they are entitled to. Although it typically involves small amounts of money, petty corruption has a far-reaching impact on citizens and companies and a corrosive long-term effect on sustainable economic growth, the overall governance environment, the government's ability to collect taxes and the rule of law. Successful approaches to tackle petty corruption involve using a combination of measures aimed at reducing red tape, enforcing effective sanctions, reforming the public sector, and promoting detection and reporting through the use of new technologies. To be successful, such approaches need to be supported by a strong political will.
Content
Not so petty: the impact of petty bribery
Approaches to counter petty bribery
References
Authors
Marie Chêne
Date
25/07/2019
Tags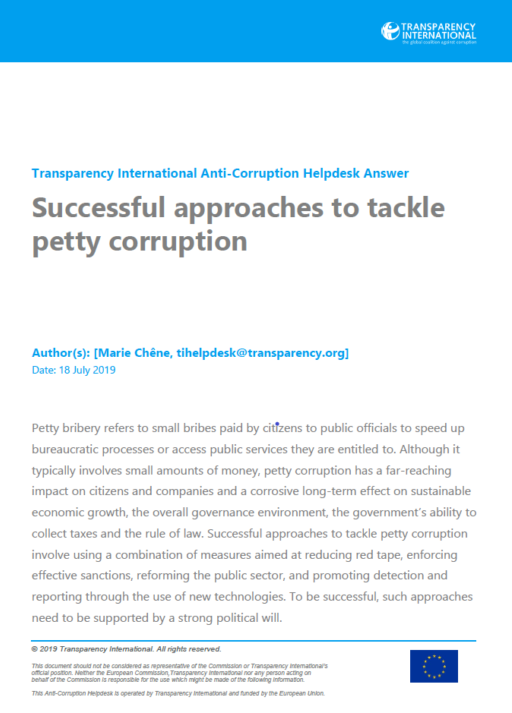 Download PDF
Experts working on this topic
Harry Patrinos
Riccardo Pelizzo
Ana Luiza Melo Aranha
Related by Country
Transparency standards of business associations
Organismes de lutte contre la corruption: centralisés ou décentralisés ?
Integrity training for public officials
Related by Topic
Corruption and marginalisation
National strategies for advancing good governance in Africa
Anti-corruption strategies for development agencies during the COVID-19 pandemic