Anti-Corruption Policies in Georgia, Moldova and Ukraine
Description
Anti-corruption policy has in recent years become a well-structured subject, thanks to the work of several international organisations and NGOs. This provides a robust basis for inter-country comparisons, the present article taking the cases of Georgia, Moldova and Ukraine.

Of these three countries Georgia stands out as having taken early and radical steps to largely eradicate corruption, from a deeply corrupted starting point similar to that of Moldova and Ukraine. The latter two countries have in recent years engaged in much of the extensive legislative agenda for curbing or preventing corruption.

However, vested interests have continued to block the full potential impact of these measures. In the case of Moldova where some key measures to assure independence of key anti-corruption institutions have not yet been taken, and a single oligarch group exercises power amounting to 'state capture'.

In Ukraine considerable progressive steps have been taken, but the overall picture is still marred by lack of clear and consistent political resolve over implementation. While the extensive legislative action does not automatically deliver results, it does represent an important legal infrastructure, which when supported by a real political will at the highest level can deliver the desired results.
Authors
Michael Emerson, Tamara Kovziridze, Nadejda Hriptievschi, Oleksandr Kalitenko, Elena Prohnitchi
Date
29/09/2017
Tags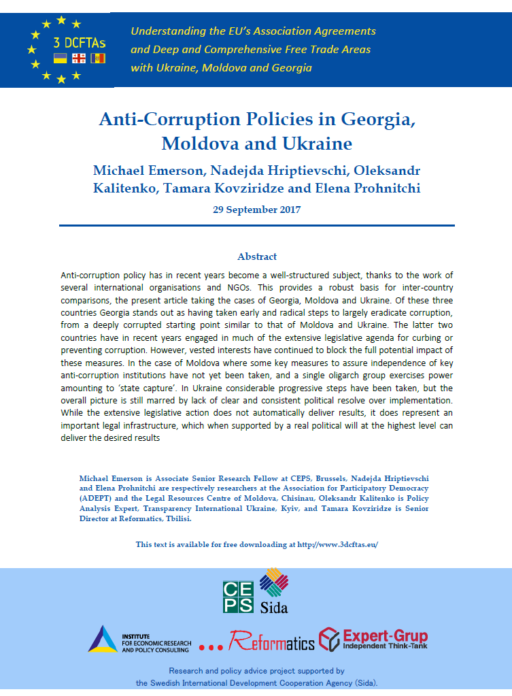 Download PDF
Experts working on this topic
Alvaro Ceballos
Farai Mutondoro
Kerstin Leitner
Related research
Recent Trends In Best Practices In Whistleblower Protection Legislation
Overview of corruption and anti-corruption in the Democratic Republic of Congo
Foreign bidders in public procurement: corruption risks and mitigation strategies
INELIGIBILITIES ARISING FROM CRIMINAL LAW DECISIONS
Burkina Faso: Overview of corruption and anti-corruption