The Anti-Corruption Agencies Strengthening Initiative: Assessment Tool
Description
Transparency International´s (TI) Anti-Corruption Agencies (ACAs) Strengthening Initiative aimed to encourage and support ACAs, and their respective governments, to realise and achieve their mandate to tackle corruption, taking into consideration both the internal and external factors relating to their performance.
To support this aim, TI has developed this assessment tool by which an ACA's performance and other important factors can be measured. The assessment tool has been developed and refined over a period of five years in consultation with experts and practitioners from around the world.
This document sets out the assessment that is structured around a set of 50 indicators clustered under 6 dimensions:
ACA's Independence and Status (9 indicators)

ACA's Financial and Human Resources (9 indicators)
ACA's Accountability and Integrity (9 indicators)
Detection, Investigation and Prosecution (9 indicators)
Prevention, Education and Outreach (8 indicators)
Cooperation and External Relations (6 indicators)
The remainder of this document presents a step-by-step guide to applying the assessment tool, including guidance on both project management and research methodology.
Authors
Date
08/08/2023
Tags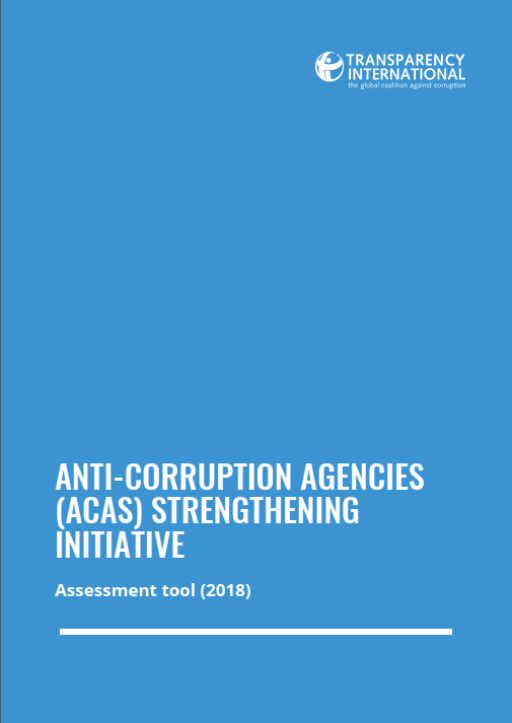 Download PDF
Experts working on this topic
Iñaki Albisu
Sutthi Suntharanurak
Alexander Elkin
Related research
Implementing codes of conduct in public institutions
Integrity training for public officials
Overview of Corruption and anti-corruption in Bangladesh
Best practices in reducing bureaucracy and corruption
Overview of corruption and anti-corruption in Iraq