Anti-corruption safeguards for economic stimulus packages

This Anti-Corruption Helpdesk brief was produced in response to a query from one of Transparency International's national chapters. The Anti-Corruption Helpdesk is operated by Transparency International and funded by the European Union. 
Query
What are the best practices and recommendations for preventing corruption when developing and implementing economic stimulus measures? These measures are understood to include direct income transfer, special lines of credit, tax benefits and the general increase in public spending as part of expansionist fiscal policies.

Contents
Introduction
Covid-19 economic stimulus packages
Corruption risks related to emergency economic stimulus programmes
COVID 19-specific corruption risks for economic stimulus programmes Ensuring economic stimulus programmes contribute to anti-corruption efforts
Conclusion
References
Main points
COVID-19 is a severe and unique challenge, necessitating massive state intervention to address economic shutdowns, in a time of reduced oversight and concentration of authority in central governments.
Implementing economic stimulus programmes in these conditions comes with multiple, serious corruption risks.
These risks should be addressed at both the design and implementation stage of programmes through applying transparency and accountability rules and paying special attention to the measures used to disburse funds.
Summary
Economic stimulus packages are being introduced across the globe at an unprecedented scale and speed to respond to the COVID-19 pandemic. These packages are also being introduced at a time when parliamentary oversight is limited due to health-related restrictions. Lessons from past emergency stimulus programmes show that under these conditions, there is a high risk that funds intended for economic support or healthcare may be stolen through corruption. Learning from these, several measures are recommended to reduce these risks both in the design and implementation phase of COVID-19 programmes.
While several recommendations have been made for COVID-19 economic stimulus programmes, it should be noted that the novelty and scale of these programmes may mean other factors are relevant that have not yet been considered in the literature and are not included here.

Authors
Jackson Oldfield, [email protected]
Reviewers:
Guilherme France, Transparência Internacional Brasil and Matthew Jenkins, Transparency International
Date
06/07/2020
Tags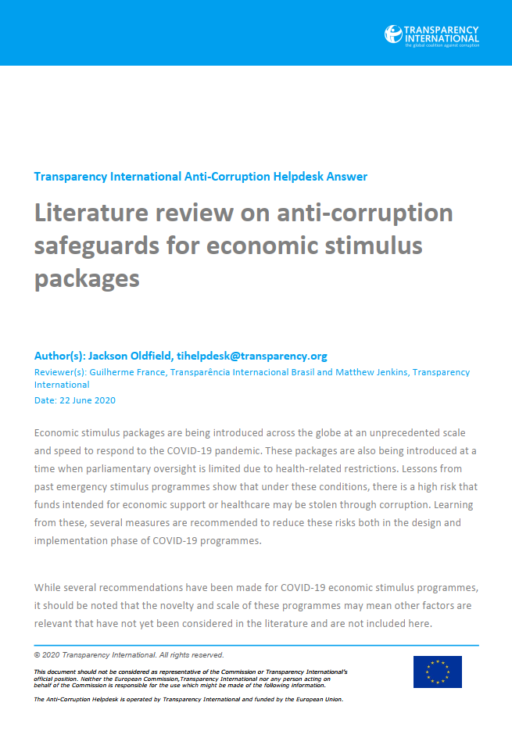 Download PDF
Experts working on this topic
Max Heywood
Francesco Clementucci
Heike Scherff
Related by Country
Populism and corruption
Technological innovations to identify and reduce corruption
Supreme audit institutions´ anti-corruption strategies
Related by Topic
Illicit financial flows and inequality
Corruption in times of crisis
The impact of Chinese investments on national procurement rules