Bhutan: Overview of Corruption and Anti-Corruption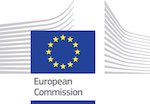 This Anti-Corruption Helpdesk brief was produced in response to a query from the European Commission. The Anti-Corruption Helpdesk is operated by Transparency International and funded by the European Union. 
Query
Please provide an overview of corruption and anti‑corruption initiatives in Bhutan, with a specific focus on: i) renewable natural resources and climate change; ii) local governance and fiscal decentralisation; iii) trade; and iv) civil society.
Content
Overview of corruption in Bhutan
Legal and institutional framework
Renewable energy, local governance, trade and civil society
References
Summary
The Kingdom of Bhutan is landlocked country, nestled in the Eastern Himalayas and surrounded by its powerful neighbours, India and China. The country is widely known for its unorthodox and unique development philosophy of gross national happiness (GNH), which is focused on the objectives of broad-based sustainable growth, quality of life, conservation of the natural environment, preservation of culture and strengthening good governance. 
Although there are cases of corruption, including conversion of government land into private property and unlawful distribution of land by ministers, the government has made substantial efforts to control it, and the country fares significantly better than the regional average. 
Hydropower is the leading renewable natural resource, and its export, mainly to India, makes up one-fifth of the Bhutanese GDP. Bhutan still relies on India for defence and many foreign policy matters. Despite being a carbon negative country, it is affected by climate change.
Local governance and fiscal decentralisation have encountered some initial challenges since the democratic transition in 2008.
Authors
Kaunain Rahman, [email protected] 
Reviewer
Matthew Jenkins, Transparency International

Date
12/09/2018
Tags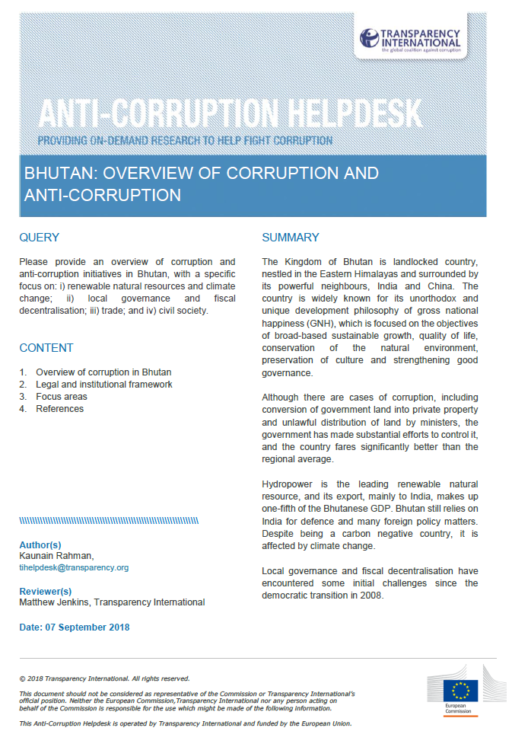 Download PDF
Experts working on this topic
Heike Scherff
Shaazka Beyerle
Attiya Waris
Related by Country
Ineligibilities for elected office arising from criminal law decisions
Related by Topic
Foreign exchange controls and assets declarations for politicians and public officials
Proactive Disclosure of Information and State-Owned Enterprises
Corruption, auditing and carbon emission reduction schemes