Brazil: overview of corruption and anti-corruption

This Anti-Corruption Helpdesk brief was produced in response to a query from one of Transparency International's national chapters. The Anti-Corruption Helpdesk is operated by Transparency International and funded by the European Union. 
Query
Can you provide an overview of corruption and anti-corruption efforts in Brazil?
Summary
Corruption remains one of the biggest impediments to economic development in Brazil. It threatens recent strides made towards equality and social justice, and it has exposed the fragility of Brazil's 30-year-old democracy. Over the last few years, Operation Carwash (Operação Lava-Jato in Portuguese) has uncovered one of the largest corruption schemes in history, involving billions of dollars, politicians and businesses from several different countries. While it is the direct result of legal and institutional evolution in anti-corruption policies, it has also demonstrated how much work remains to be done. Wide-ranging reforms on Brazil's political system are necessary not only to fight and, especially, prevent corruption, but also to safeguard the country's democracy.

Contents
Overview of corruption in Brazil
Weakened democracy
Legal and institutional anti-corruption framework
References
Authors
Guilherme France, [email protected]

Reviewer:
Maíra Martini, Transparency International
Date
28/01/2019
Tags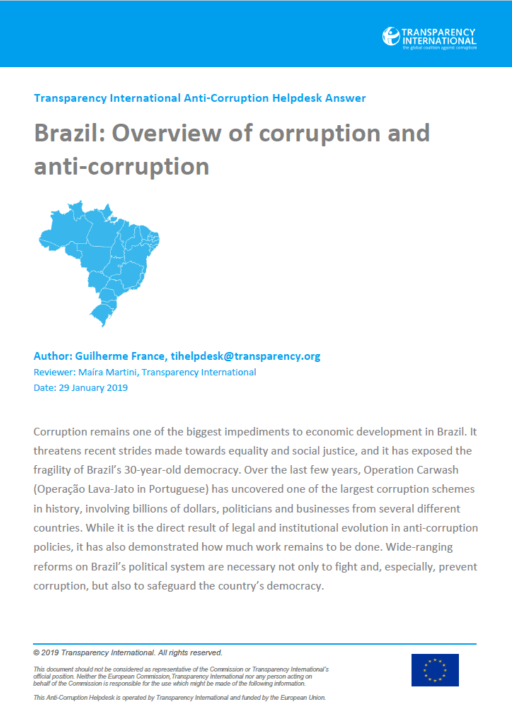 Download PDF
Experts working on this topic
Maye Samoiel
Alvaro Ceballos
Richard Klein
Related by Country
Regulating nepotism: approaches and best practices
Good practice in mitigating corruption risks in the extractives sector
Building on social movements to achieve systemic change
Related by Topic
Tools to reduce private sector engagement in grand corruption during the award of public contracts,
Multilateral Development Banks' integrity management systems
Cooling off periods: Regulating the revolving door