Corporate transparency: overview of issues and literature review

This Anti-Corruption Helpdesk brief was produced in response to a query from one of Transparency International's national chapters. The Anti-Corruption Helpdesk is operated by Transparency International and funded by the European Union. 
Query
Please provide an overview of the literature surrounding corporate transparency and the challenges companies face.
Summary
Increasing attention is being paid to practices of corporate transparency, due to growing concern about the participation of private sector entities in domestic and international politics. This paper presents an overview of the available, private-sector oriented literature on corporate transparency.  
The sources are presented in sections, detailing benefits and challenges of corporate transparency, and guidelines and principles related to corporate transparency. A variety of sections cover sources detailing overviews, benefits and challenges, and policy recommendations on a variety of corporate transparency mechanisms.

Contents
Background
Literature review: corporate transparency
References
Authors
Iñaki Albisu Ardigó, [email protected]
Date
25/04/2019
Tags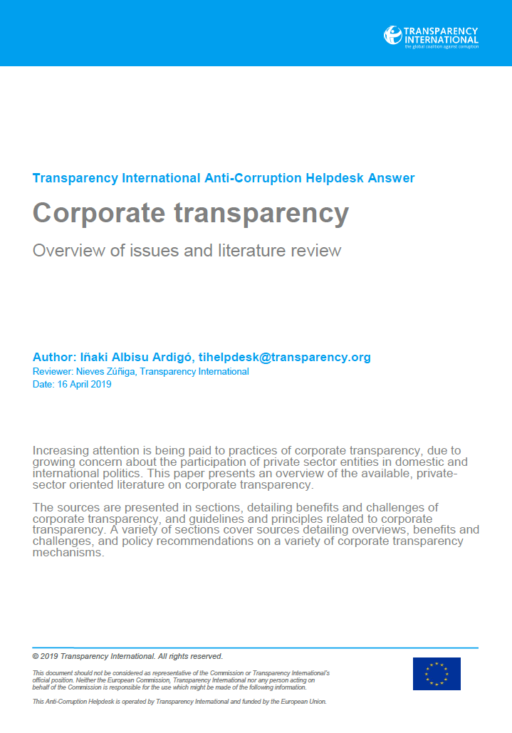 Download PDF
Experts working on this topic
Alvaro Ceballos
Maria Krambia Kapardis
Farai Mutondoro
Related by Country
Buenas prácticas en materia de mecanismos de denuncia comunitaria
Unexplained wealth order as an anti-corruption tool
Fighting grand corruption: Challenges and successes
Related by Topic
Code of ethics for companies: Good practices and resources
The relationship between business integrity and commercial success
The impact of Chinese investments on national procurement rules