This Anti-Corruption Helpdesk brief was produced in response to a query from one of Transparency International's national chapters. The Anti-Corruption Helpdesk is operated by Transparency International and funded by the European Union. 
Query
Please provide an overview of the influence of fake news on anti-corruption activism. How does fake news relate to corruption? To what extent does fake news undermine anti-corruption efforts?
Content
What is fake news?
Media freedom, social media and countering corruption
The impact of fake news on (anti-)corruption
Addressing the problem of fake news
References
Summary
In recent years, the growing prevalence of false information spread predominantly via social media has become a major threat to public trust in both mainstream and independent media outlets. This phenomenon is increasingly referred to as fake news. 
However, the term fake news not only refers to the dissemination of incorrect information in support of a typically partisan political agenda but is also often employed to discredit factually accurate news reporting. The changing media landscape makes false information more credible while simultaneously weaponising a term – "fake news" – that can be used to attack reputable independent journalists. The use of the term should therefore be treated with some caution.    
While the effects of fake news have yet to be fully understood, they should still be seen as a cause for concern among anti-corruption activists. Since anti-corruption activism relies strongly on trust in independent media outlets, as well as the use of social media as a means of communication, the impact of fake news in undermining this trust is a real threat. In addition, anti-corruption activists might find themselves targeted by fake news campaigns, damaging their credibility and legitimacy in the eyes of the public.
While the scale of the threat should not be exaggerated, anti-corruption activists should consider strategies to guard against fake news.
Authors
Niklas Kossow, Hertie School of Governance. [email protected] 
Reviewers
Christoph Abels, Hertie School of Governance.
Matthew Jenkins, Transparency International.
Date
13/09/2018
Tags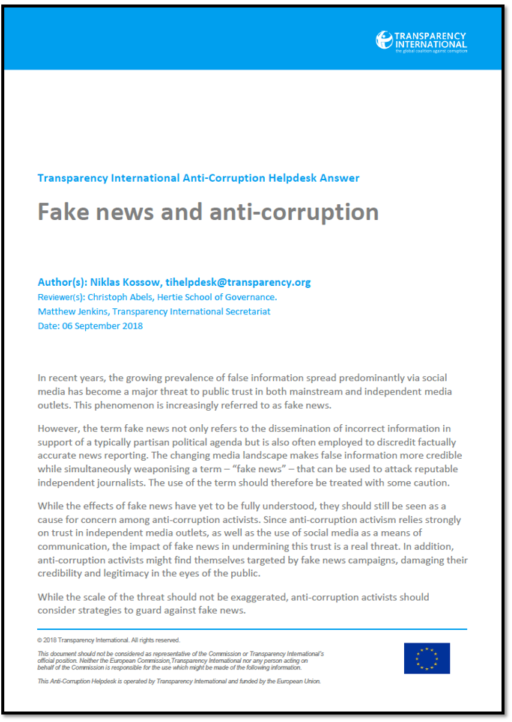 Download PDF
Experts working on this topic
Vítezslav Titl
Aram Khaghaghordyan
Alma Balcazar
Related by Country
Anti-corruption and transparency in global banks
Transparency of State-owned enterprises
Successful anti-corruption reforms
Related by Topic
Labour and employers' associations, corruption risks and the potential of social dialogues
GOOD PRACTICE IN WITNESS PROTECTION LEGISLATION
Literature review on social norms and corruption