Financial incentives for whistleblowers

This Anti-Corruption Helpdesk brief was produced in response to a query from one of Transparency International's national chapters. The Anti-Corruption Helpdesk is operated by Transparency International and funded by the European Union. 
Query
Can you provide information on whistleblower reward programmes? Which countries have such reward programmes, and what are the main features? Is there any research showing the effectiveness of such reward systems; that is, are people more likely to blow the whistle if a reward is given or not?
Content
Rationale for introducing financial incentives for whistleblowing
Main features of reward programmes
Country examples
References
Summary
Several countries, such as the U.S., Canada and South Korea, have introduced whistleblower reward programmes that aim to increase the quantity of disclosures about cases of corruption, fraud, misconduct and other illegal activities.  
These mechanisms award whistleblowers with a payment if their information leads to successful prosecution or recovery of funds. Some analysis suggests that these programmes are successful as they incentivise individuals or groups to come forward with information and counter-balance the possible dangers of blowing the whistle.  
However, another school of thought suggests that reward systems can create perverse incentives,  leading to negative effects such as a rise in false reports. This Helpdesk answer provides an overview of reward programmes and examples of countries that have enacted the legislation.
Authors
Caitlin Maslen
Reviewers
Charlotte Dawirs and Matthew Jenkins, Transparency International, [email protected]

Date
27/09/2018
Tags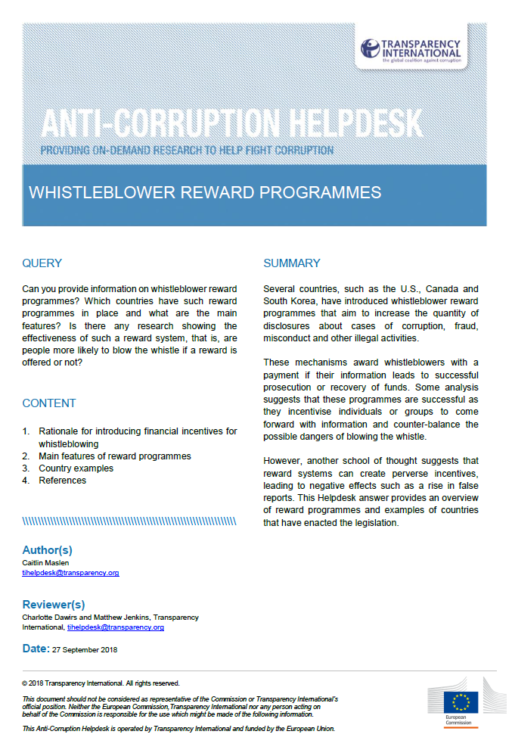 Download PDF
Experts working on this topic
Andrea Bonime-Blanc
Ashutosh Mishra
AJ Brown
Related by Country
Anti-corruption and transparency provisions in trade agreements
Regulating nepotism: approaches and best practices
Fighting corruption in education in fragile states
Related by Topic
The impact of the General Data Protection Regulation on whistleblowing
Sensibilité à la dimension de genre dans le signalement et la dénonciation de la corruption
Whistleblowing protection in Romania and Hungary