Immunity Provisions for Ministers and Members of Parliament

This Anti-Corruption Helpdesk brief was produced in response to a query from one of Transparency International's national chapters. The Anti-Corruption Helpdesk is operated by Transparency International and funded by the European Union. 
Query
Please provide an overview of the domestic immunity regimes for ministers and members of parliament in different countries.

 CONTENT 
1. Rationale for immunity provisions and their corruption risks 
2. International standards, recommendations and best practices 
3. Country examples 
4. Enabling factors needed for immunity regimes as an anti-corruption instrument 
5. References 
 SUMMARY 
Immunities, or jurisdictional privileges, provide persons or groups of persons some degree of protection against civil or criminal rules that do not apply to all citizens. These provisions are in place to ensure the unimpeded performance of public functions and to avoid targeted prosecutions or political persecution. However, immunities can also be abused by officials who use it as a shield from liability for criminal offences, including corruption. Good immunity regimes manage to balance the independence required for public officials to fulfil their mandate with the right accountability mechanisms to ensure that corruption is effectively sanctioned and prevented. 
While most countries provide immunity protections for their public officials, each jurisdiction varies in the range of officials covered, scope of immunity and rules regulating the procedures for lifting immunities. 
International norms and standards have emerged in the last two decades with the aim of sharing best practices and closing loopholes that may encourage corrupt behaviour. Most notably, Article 30 of the United Nations Convention against Corruption provides a legal framework for the reduction of immunity protections. 
The effectiveness of amending the regime of immunities as an anti-corruption instrument depends on the institutional settings, observance of the rule of law as well as the domestic political economy. 
Authors
Jon Vrushi
Date
20/06/2018
Tags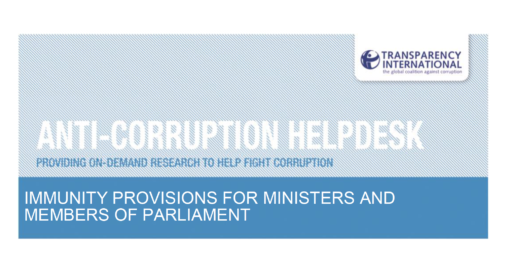 Download PDF
Experts working on this topic
Ina Kubbe
Monty Silley
Muriel Poisson
Related by Country
Businesses' lobbying practices
Overview of executive codes of conduct and ministerial codes
Models of donor coordination for managing multi-donor inputs
Related by Topic
Political finance oversight: Key institutions and mechanisms in sub-Saharan Africa
The impacts of AML/CFT regulations on civic space and human rights
Asset Declaration Rules for Politicians