Businesses' lobbying practices

This Anti-Corruption Helpdesk brief was produced in response to a query from one of Transparency International's national chapters. The Anti-Corruption Helpdesk is operated by Transparency International and funded by the European Union. 
Query
We are currently working on a project related to the lobbying practices of private companies. We are interested in the process, practices and ways of lobbying by businesses, as well as good and bad practices.
Content
Background
Why businesses lobby
How businesses lobby
Corruption and lobbying: two sides of the same coin?
Good practices in regulating lobbying
Compliance and enforcement
References
Summary
Lobbying is a multi-billion dollar industry. The bulk of this expenditure is from business and corporate actors who lobby public decision makers to influence everything from international trade agreements and economic policy to public contracts and regulatory enforcement. The financial stakes for business are enormous, but the stakes for the public interest can be equally significant. In-house as well as consultant lobbyists are often tasked with representing the interests of their employers or clients without considering the consequences for the environment or the health and safety of the public (Transparency International Ireland 2015).  
This brief responds to the query on lobbying practices by private companies by answering several inter-related questions: how do companies actually attempt to lobby and influence? What can be considered legitimate and illegitimate, and what are emerging best practices? How have different jurisdictions responded to the challenges posed by lobbying and how have businesses in turn responded to these regulatory regimes? 
Authors
Matthew Jenkins and Suzanne Mulcahy, Transparency International, [email protected]
Date
24/10/2018
Tags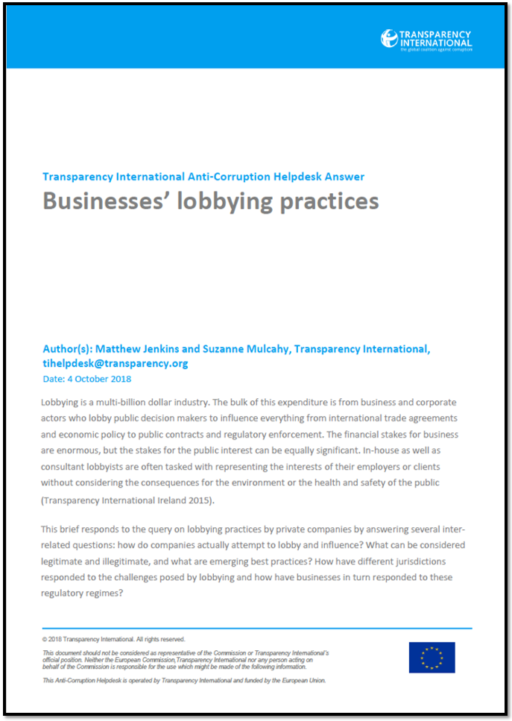 Download PDF
Experts working on this topic
Matthew Jenkins
Paul Heywood
Florian Schatz
Related by Country
Mutual legal assistance and corruption
OVERVIEW OF PRACTICES FOR THE COLLECTION OF CORRUPTION DATA AND STATISTICS IN EU MEMBER STATES
Corruption at the border
Related by Topic
Reducing bureaucracy and corruption affecting small and medium enterprises
RECOUVREMENT DES AVOIRS EN ÉGYPTE, EN LIBYE ET EN TUNISIE : LES LECONS A TIRER
How could anti-corruption interventions tackling global corruption benefit the UK?