Overview of corruption and anti-corruption in infrastructure development

This Anti-Corruption Helpdesk brief was produced in response to a query from a U4 Partner Agency. The U4 Helpdesk is operated by Transparency International in collaboration with the U4 Anti-Corruption Resource Centre based at the Chr. Michelsen Institute.
Query
Please provide an overview of corruption and anti-corruption measures in the infrastructure sector.
Summary
Roughly one-half of all fixed capital investment by governments is in the construction of public infrastructure – an essential component of economic growth and social development, especially in developing countries (Pyman 2021). Yet at the same time governments, citizens and funders are frequently dissatisfied with the outcomes of infrastructure projects as they often involve the waste or misallocation of precious state resources (Wells 2015).
Corruption can have serious consequences for infrastructure projects across three areas. First, corruption in infrastructure provision is likely to increase prices and inflate project costs. Secondly, corruption can cause delays in project completion and lead to poor quality infrastructure. Thirdly, corruption in infrastructure development is likely to distort the public spending structure, with a bias towards high value, high complexity investments into new infrastructure as opposed to spending on maintenance and operations.
While the procurement process is often thought of as the phase most vulnerable to corruption (World Bank 2006a), corruption can undermine the integrity of infrastructure projects at every stage of the cycle, from project initiation to disposal of assets. This Helpdesk Answer considers the corruption risks throughout the infrastructure development cycle and presents ways to improve integrity and ultimately ensure better value for money.

Main points
Risk factors inherent to infrastructure projects that render them particularly susceptible to corruption include the fact that these projects are often large, long-term and complex, involving numerous actors. Moreover, corruption safeguards such as transparency in all phases of the project and contracting cycles as well as citizen participation are often neglected.
Each phase of the infrastructure development cycle entails specific risks, ranging from undue influence by politicians in project selection to insider trading during the disposal of assets.
Most countries have implemented mechanisms to reduce some of the more obvious entry points for corruption, such as by improving transparency and competitiveness during the procurement process. However, corruption may simply shift to other stages of the project cycle. For instance, if the contract award is difficult to influence, corrupt activity may centre on the project design and appraisal phase or through amendments to the contract during project implementation.
Hence, any strategy attempting to tackle corruption in infrastructure will need to approach the sector more holistically and address the fundamental corruption risk factors related to regulatory frameworks and institutional capacity as well as the lack of transparency and public participation.
Contents
Introduction
Background on corruption in infrastructure

Negative effects of corruption in infrastructure projects
Corruption risk factors in infrastructure projects

Corruption risks across the infrastructure project cycle

Project initiation
Project preparation
Public procurement
Contract implementation
Maintenance and operation of assets
Disposal of assets

Cross-cutting anti-corruption approaches

Strengthening regulatory frameworks and institutional capacity
Enhancing multi-stakeholder cooperation

References
Authors
Isabelle Adam and Mihály Fazekas (Government Transparency Institute)
Reviewers
Arne Strand (U4/CMI)
Matthew Jenkins and Antonio Greco (TI)
Date
17/04/2023
Tags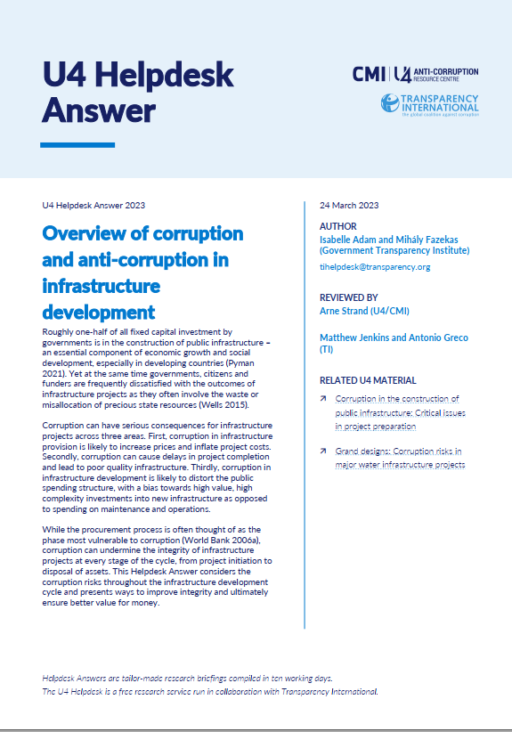 Download PDF
Experts working on this topic
Susan Rose Ackerman
Florian Schatz
Su Su
Related by Country
Blacklisting in Public Procurement
Good practices in preventing corruption in planing and zoning at the local level
Illicit finance and national security
Related by Topic
Literature review: The use of ICTs in the fight against corruption
Sanctioning regimes for bribery
The impact of public financial management interventions on corruption