Saudi Arabia: an overview of corruption and anti-corruption

This Anti-Corruption Helpdesk brief was produced in response to a query from one of Transparency International's national chapters. The Anti-Corruption Helpdesk is operated by Transparency International and funded by the European Union. 
Query
Please provide an overview of corruption and anti-corruption in Saudi Arabia
Summary
The Kingdom of Saudi Arabia is an absolute monarchy, commonly viewed by observers as an authoritarian state (IBP 2017). With severely limited civic space and freedom of expression, the country has witnessed escalating suppression of dissidents and severe human rights abuses (CIVICUS 2018; Freedom House 2019; Human Rights Watch 2019a). Although there have been high-profile measures to curb graft in recent years, many analysts view the anti-corruption drive headed by the crown prince as motivated primarily by a desire to consolidate political power (Kirkpatrick 2019).
While the effective implementation of anti-corruption efforts is largely at the discretion of the country's rulers, corruption is viewed by observers as a significant issue in the country (Freedom House 2019; GAN Integrity 2019). Notably, almost total opacity in public accounting prevents ordinary Saudis from understanding how much of the state income generated by massive oil revenues ends up as private wealth for the royal family and its clients (Freedom House 2019; Hertog 2019).
Contents
Background
Extent of corruption
Nature of corruption challenges
Sectors affected by corruption
Legal framework
Institutional framework
Other stakeholders
References
Main points
There has been an escalation of repression and human rights abuses since 2017, when crown prince Mohammed bin Salman took over as de facto ruler.
The prince has launched an anti-corruption purge widely seen as a bid to consolidate power in the oil rich rentier state.
Nepotism, patronage and clientelism remain major forms of corruption, and the defence and oil sectors are seen as particularly vulnerable.
While extensive anti-corruption legislations exists, the effectiveness of these laws in practice is open to question due to extensive opacity and state control of media outlets.
Caveat
Where systemic checks and balances in the form of transparent and accountable public institutions are absent, control of corruption is largely dependent on the political will of incumbent leaders, who may instead choose to employ targeted allegations of corruption against adversaries. Literature reviews indicate that in environments with restricted civil and political rights such as Saudi Arabia, anti-corruption strategies are less sustainable as they are unable to draw on the full range of anti-corruption measures, many of which rely on the participation of non-state actors (Kukutschka 2018). As such, any improvements in reducing corruption in these settings are contingent on the caprice of a few individuals, meaning progress in clamping down on malfeasance is likely to prove fragmentary, short-lived and volatile (Transparency International 2019b).

Authors
Kaunain Rahman, [email protected]
Reviewers:
Marwa Fatafta and Matthew Jenkins, Transparency International
Date
23/01/2020
Tags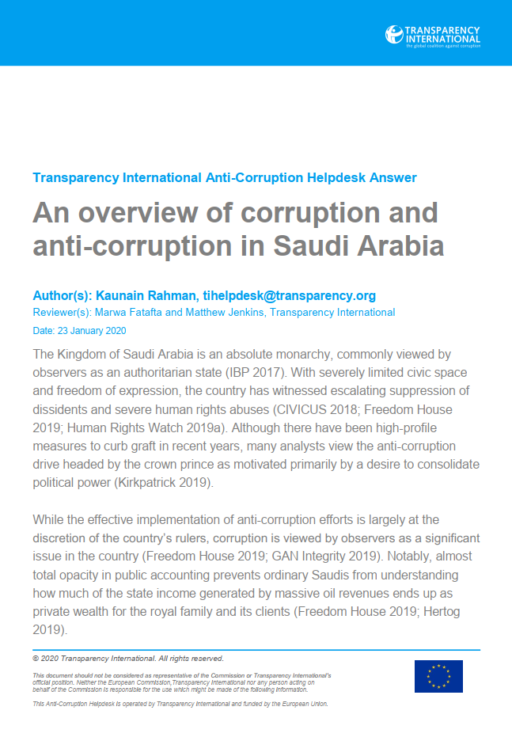 Download PDF
Experts working on this topic
Sofia Vera
Kyela Leakey
Tiago Cicilio
Related by Country
Buenas prácticas para la mitigación de riesgos de corrupción en el sector de las industrias extract
Good practice in mitigating corruption risks in the extractives sector
Related by Topic
Organismes de lutte contre la corruption: centralisés ou décentralisés ?
UNCAC and the role of civil society
Influence of interest groups on policy-making