Supply chain corruption, customs transparency and consumer protection

This Anti-Corruption Helpdesk brief was produced in response to a query from one of Transparency International's national chapters. The Anti-Corruption Helpdesk is operated by Transparency International and funded by the European Union. 
Query
What are the links between corruption, lack of transparency and customs? What are the best practices for customs transparency and consumer information? What steps can be taken to improve access to the information in question?
Purpose
We are working with other NGOs to prevent corruption-tainted products from passing through customs in order to protect consumers.
Content
Connections between corruption risks and customs transparency
Best practices in customs transparency
Steps to improve consumer information
References
Summary
Supply chains are susceptible to many different forms of corrupt practices and illicit behaviour, all of which inflict costs and harm to the wider society. Different strategies exist to address these risks, such as legislation, enhancing management procedures and pursuing due diligence. Yet all of these rely on transparency.
Customs is a possible link in the supply chains where transparency can be increased. This brief discusses the connections between customs transparency, corruption in supply chains and consumer protection before identifying best practices to increase the transparency of products passing through customs and best practices for how consumers can access more information. The final section focuses on next steps that the governments, businesses and civil society can make to increase the transparency of products passing through customs.
Authors
David Jackson, Transparency International
Date
23/06/2016
Tags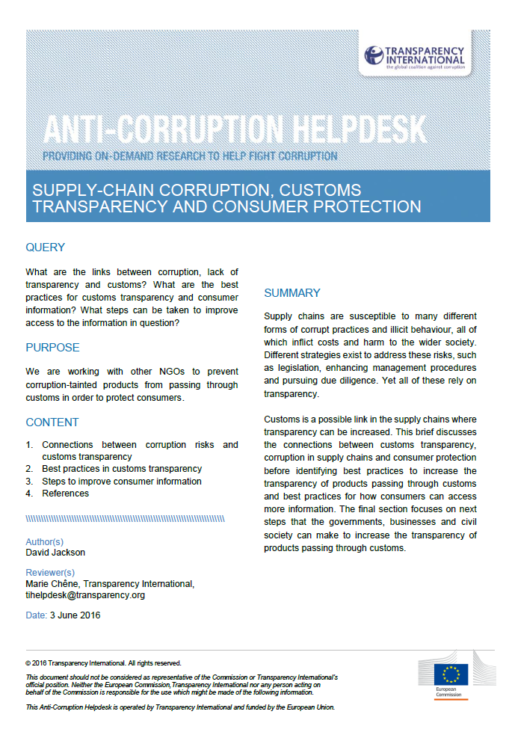 Download PDF
Experts working on this topic
Maria Krambia Kapardis
Olga Shiyan
Mihaylo Milovanovitch
Related by Country
Anti-corruption and integrity awards
Efficacité des codes de conduites pour les parlementaires
Sequencing of Law Enforcement Interventions to Combat Corruption
Related by Topic
Corruption in ASEAN: Regional trends from the 2020 Global Corruption Barometer and country spotlights
Corruption and anti-corruption in social security services
Impact of corruption on indigenous people