The role of business associations and chambers of commerce in the fight against corruption

This Anti-Corruption Helpdesk brief was produced in response to a query from a U4 Partner Agency. The U4 Helpdesk is operated by Transparency International in collaboration with the U4 Anti-Corruption Resource Centre based at the Chr. Michelsen Institute.
Query
Please provide specific examples or initiatives led by or supported by Chambers of Commerce and Business Associations in helping business fighting against corruption?
Purpose
The agency is looking for best practices, where these organisations play a lead or supporting role in promoting collective action among businesses.
Content
How can business associations support the fight against corruption?
Examples of business associations fighting corruption in practice
How to assess whether a business association is a good partner?
Summary
Companies are most likely to behave ethically and act against corruption if they are confident that their competitors also adhere to the same ethical standards. Business associations and chambers of commerce can potentially offer a good platform for companies operating in a given sector to collectively engage in the fight against corruption and level the playing field between competitors.
There are several ways in which business associations and chambers of commerce can support anti-corruption efforts. They can facilitate collective action, collectively advocate for reforms and encourage more transparency and accountability in government decisions, as well as promote good corporate integrity among its members. Examples show that chambers of commerce and business associations have played an important role particularly in setting integrity and anti-corruption standards for businesses mainly through certification programmes and the adoption of codes of conduct. This is the case for example in Thailand and the Philippines.  Other areas of intervention include trainings, awareness raising and advocacy as implemented by business associations in China and Vietnam.
Authors
Maíra Martini, Transparency Internationa, [email protected] 

Reviewer:
Marie Chêne, Transparency International
Date
09/10/2013
Tags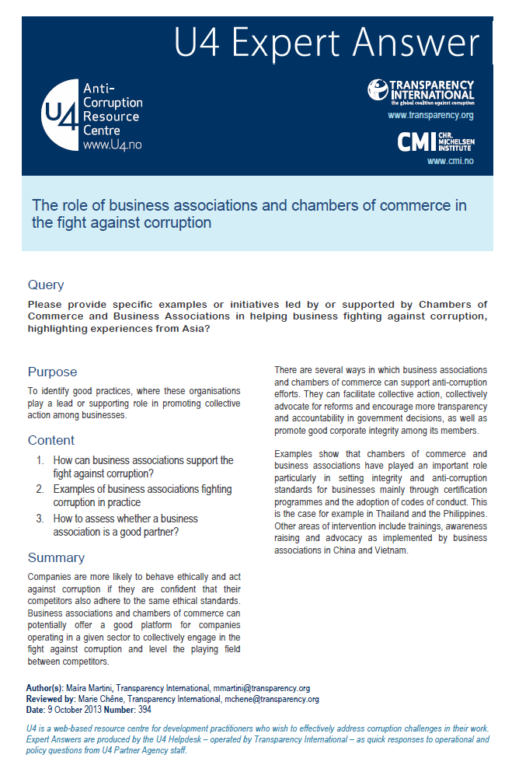 Download PDF
Experts working on this topic
Sebastian Wegner
Ayodele Akenroye
Alexander Elkin
Related by Country
Ineligibilities for elected office arising from criminal law decisions
State capture in Asia Pacific
Anti-corruption compliance mechanisms for State Owned Enterprises
Related by Topic
Overview of corruption in the telecommunications sector
The linkages between corruption and violations of competition laws
Corruption et lutte contre la corruption en Côte d'Ivoire